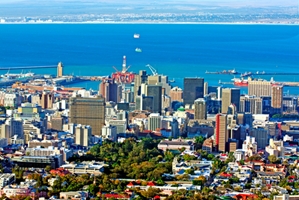 08/12/2016
Cape Town, South Africa, is a little bit further than some other beach destinations, but the city offers the trip of a lifetime. The sounds and flavours of the main streets are unlike anything you would find in the U.S. or Canada.
Whether you are looking to explore a new culture or just interested in the beach life, Cape Town is a world class city, making it a great destination for the experience of a lifetime.
Sunny shores
Located on the Southern tip of the African continent, Cape Town has all sorts of beach life to enjoy. Between delicious seafood, wonderful strips of sand and beautiful scenery, there is likely something for everyone.
The Huffington Post reported that for real beach bums, the town of Camps Bay can't be beat. There are a number of luxurious, world-famous hotels that are situated directly across from the shore, with many restaurants offering sunset dinners and great nightlife. Elsewhere in the town are open-air markets and other attractions to explore.
While the beaches themselves are a perfect place to unwind, Camps Bay is also known around the globe as one of the best locations for surfing. According to the Website Wanna Surf, Glen Beach in particular consistently offers the best waves for beginners as well as pros. Still, for families with small children or more relaxed visitors, the sandy shores of Cape Town are an equally excellent place to enjoy some time at the beach.
Elsewhere, such as the Victoria & Alfred Waterfront, there is exquisite shopping and delicious restaurants, as well as outdoor concerts and other events. The Huffington Post reported that this area of Cape Town is a perfect place for couples, families and lone travellers.
Unmatched natural beauty

Though Cape Town is a wonderful destination for a beach holiday, the city boasts so much more. Table Mountain, an impressive peak that overlooks the entire city, is home to Table Mountain National Park. According to the park's Website, not only can visitors enjoy unbelievable views of the city and ocean below, but there are many curious plants and animals to take in.
Zebra and antelope call the park home, along with many smaller mammals like the African porcupine or Cape clawless otter. Unfortunately, major predators like lions and leopards that once roamed the wild areas surrounding Cape Town have been pushed out due to hunting and human development.
That isn't to say that Cape Town is devoid of large predatory beasts, however. Seal Island, which is located just a few miles away from downtown Cape Town, is home to a huge population of Cape Fur Seals. These animals are a delight to visitors, but are also the main prey item for the great white shark, one of the most impressive and fearsome creatures in the sea. Known as "The Great White Capital of the World," Cape Town Magazine reported that there are dozens of opportunities for brazen visitors to get in the water and cage dive with these intimidating predators. Although the activity is generally deemed safe, it is still not for the faint of heart.
Happily enough, the beaches around Cape Town are also home to a much more friendly critter. Although penguins may seem a little out of place in a balmy beach town, the African penguin is found throughout the Southern shores of Africa. In fact, these funny birds have been known to venture into suburban neighbourhoods in search of an easy meal or a safe place to create a nest.