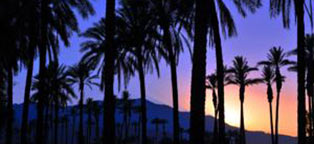 09/14/2018
Once the home to stars like Frank Sinatra, Cary Grant and Elvis, Palm Springs is a hip desert city and a mid-century art lover's paradise. Getting there from Canada is easy with daily flights from several major Canadian cities. WestJet flies directly into the city's very manageable airport, but you can also hit the highway from Los Angeles and take a four-hour road trip into the celebrated California desert.
What you'll find when you get there are streets lined with mid-century modern style ranch houses, kitschy antique shops and classic old school restaurants that are still at the top of their game nearly 50 years later. A Palm Springs getaway filled with iconic architecture, vintage shopping and breathtaking desert scenery makes a unique mini-break for fans of old-school design, outdoor adventures or a hip party scene.
First, find a room and a pool
 Palm Springs veterans say as long as your accommodations have a pool you're all set. And that shouldn't be a problem because, according to Locale Magazine, there are over 40,000 swimming pools in Palm Springs, and that means there is something for everyone. All you have to do is decide what kind of vibe you're looking for poolside.
If you are looking for a high-energy poolside party experience with cocktails and live music, TimeOut magazine suggested the Saguaro Hotel with its brightly colored exterior, poolside bar and live DJ on the weekends. Ace Hotel and Swim Club is a one-time Motel 6 now catering to urban hipsters looking to see and be seen. The merely curious can check out the scene at either hotel by purchasing a guest pass.
For travellers looking to unplug and relax in a beautifully curated mid-century environment, there are a number of small boutique hotels that will send you back to the days of the Rat Pack and the Brady Bunch. Travel and Leisure suggested checking into one of the nine studio rooms at the Orbit Inn. Each room features furniture and fixtures by famous mid-century designers such as Eames and Arne Jacobsen. Fans of more modern whimsy might like the Parker Palm Springs with its design by American designer Jonathan Adler with amenities including spa services, two pools, tennis and croquet. (Note: The small boutique hotels are typically adults-only, so check with the hotel if you plan on bringing kids.)
For those who want to unplug entirely there is Sparrows Lodge, which was built in 1952 and refurbished in 2013 as a rustic lodge with a modern flair. The 20 rooms have concrete floors, horse trough style bathtubs and not a phone or television in sight. For a little Moroccan flair, try Korakia Pensione where Errol Flynn, Rudolph Valentino and even Winston Churchill once stayed. It's a family-run collection of unique rooms and villas each decorated in Mediterranean Moroccan style. The atmosphere here is one of quiet relaxation with spa services, yoga classes and a Moroccan tea service every afternoon and movies in the evening.
Climb mountains, hike deserts and shop vintage
In Palm Springs you can relax poolside in the morning and then take the Palm Springs Aerial Tramway up to Mt. San Jacinto State Park. The 10-minute ride on the world's only rotating tram car deposits riders 2,596 metres above sea level at Mountain Station. Visitors can grab lunch at one of two restaurants, browse the gift shop, explore over 80 kilometres of hiking trails - or maybe even have a snowball fight before heading back to the hotel pool. Back down at ground level, take a self-guided driving tour of mid-century homes with a downloadable app available from the Palm Springs Modern Committee.
Try to plan your visit so you're in town on Thursday nights for the Palm Springs Villagefest in downtown Palm Springs. Here you'll find 180 vendors selling art, antiques, jewelry, collectibles and crafts. There's also fresh produce, food trucks and live music. If you miss the Village Fest or just want to browse further, head to the Uptown Design District with shop after shop filled with mid-century decor, clothing and contemporary art. WestJet recommended checking out Destination PSP for contemporary souvenirs with a fun mid-century flair.
There's no better place to rest, recharge and soak up the California sunshine.