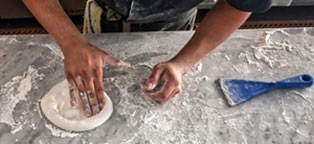 01/27/2017
If you're not from the East Coast of the United States, Myrtle Beach can sometimes go overlooked when you're trying to plan a fantastic beach vacation that supplies plenty to do for people of all ages. Individuals might first think of places like Miami, Galveston, San Diego or any number of Caribbean Islands before Myrtle Beach pops into their minds. However, if you're trying to take a trip to a fun, if relatively small city known for its charm, kind residents and exciting opportunities, this South Carolina haven should definitely make it onto your list.
About halfway down the Eastern Seaboard, and just over the border between North and South Carolina, Myrtle Beach has been a hot spot for in-the-know travellers for decades. There's plenty to do both indoors and outdoors, numerous golf courses, gorgeous and large beaches, and plenty of tourist attractions to keep kids occupied and mom and dad interested.
Myrtle Beach is also considered a prime vacation spot for foodies. Mixing Southern food with small-town charm, there are plenty of favourite places to enjoy a good meal. Whether you're a connoisseur or simply trying to find a wholesome place for your family to enjoy dinner after a day in the water, here are some must-try restaurants in Myrtle Beach.
Carolina Roadhouse

If you're looking for some Southern barbeque, Myrtle Beach-style, look no further than Carolina Roadhouse, where meat eaters come to chow down. According to The Travel Channel, the restaurant boasts huge portions - so you can get more than one meal out of this venture - and features dishes from a foot-long hot dog loaded with homemade chili and other fixings to a rack of ribs and good quality seafood. Another perk? You're served a complimentary basket of sweet croissants after you're seated.
Angelo's Steak and Pasta

Individuals who want to eat a prime cut of steak and/or just love classic Italian-American fare should consider checking out Angelo's Steak and Pasta. There are plenty of options here - you can order from the dinner menu or partake in the Italian buffet, Vacatia reported. If you're in the mood for Italian food and want the best, you should make a reservation ahead of time - the source noted that it's one of the busiest restaurants of its kind in the city.
Collectors Cafe

There are plenty of reasons why people who find themselves vacationing in Myrtle Beach often make a point to visit Collectors Cafe. As Ocean Reef explained, it is a unique blend between a fine-dining spot and an art museum, so art aficionados should place this restaurant at the top of their list. This business is also known for using local ingredients, meaning it's not only a hit with locals, but also with people who are interested in dining on fresh seafood, including crab, yellow-fin tuna and lobster.
Dagwood's Deli

Are you travelling with picky eaters or just want something relatively simple and classic? If so, make sure you head to Dagwood's Deli. A Myrtle Beach staple, this hot spot serves up huge sandwiches on freshly baked rolls. While there are plenty of different varieties, The Travel Channel highlighted the Dagwood's Dipper, which consists of sliced turkey, Swiss cheese, bacon bits and homemade dill mayonnaise stacked high on a heated sub roll.
Abuelo's

If you are thinking about a different type of Myrtle Beach bite, you should give Mexican cuisine a try. Abuelo's offers up authentic, savoury Mexican food in a very relaxed and beautiful environment. As The Travel Channel reported, you're seated in an open-air Mexican-style courtyard, so make sure you dress according to the weather outside.
Green Grubbin'

If eating all-natural, organic food is important to you, you should be sure to stop into Green Grubbin' in the downtown area. This restaurant is known for using ingredients that don't feature GMOs or antibiotics, Ocean Reef detailed, and it prides itself on its supremely healthy options. To top it all off, make sure you order the all-natural ice cream to cool down before heading back out into the South Carolina heat.
Cafe Old Vienna

While travellers might link Myrtle Beach with Mexican food after hitting Abuelo's, they're going to be in for a truly international culinary treat if they also check out German-Austrian restaurant Cafe Old Vienna. After all, Vacatia hailed this place on bustling North King's Highway as a fantastic spot to grab some classic European fare. If you're in the mood to try Bavarian bratwurst, Viennese goulash and/or wiener schnitzel, with a German beer - for those of age - you've certainly come to the right place.