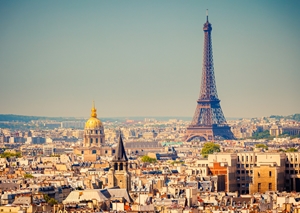 04/13/2016
If you're going to a new land, chances are good that many people are going to recommend you check out the biggest attractions the country has to offer, many of which are likely in the capital city. Think about it this way: If you're considering going to Italy, Rome could well be the first final destination that pops into mind. After all, there's a reason these types of places are the cradles of their countries.
But, what about if you're looking for a completely authentic experience and really want to immerse yourself in the local culture? Sure, if you're in the United Kingdom, there are certainly millions of British people who live, work and play in London. That said, many spots in these types of big cities tend to cater to tourists and other visitors.
So, let's say you're heading to France. The big question is, especially if you're on the fence: Should you go to Paris, or might you want to learn more about French society in a small village or one of the smaller, but no less magnificent metropolises that are often overshadowed by the City of Light?
Plenty of other great cities

Luckily, given the size of France, there are so many other, equally great, places to visit that won't be loaded with tourists and common experiences. For instance, The Huffington Post pointed out that Nice is particularly alluring, with its "near perfect weather all year round," as well as a hopping nightlife, great food and gorgeous beaches.
There are many other great spots to check out, the source explained, including Lyon (particularly good for foodies), Cannes (very luxurious and full of celebrities), Marseille (historical and culturally diverse) and Chamonix (perfect for winter sports and checking out the landscape).
Easy to be overwhelmed

Let's say you do, in fact, go to Paris. If you're in the City of Light, it's so easy to get swept up in the romance of the metropolis - the sidewalk cafes, the Eiffel Tower, the museums and the vibrant culture. When you're too busy hopping from site to site, getting caught up in making sure you have a picture perfect experience, two main things happen. First, you end up having the same vacation that thousands of other people have each year - there's nothing unique about it. And second, you overlook and skip some of the best things that make Paris interesting. If you're the type who might get swept up in the hype but you still want to see Paris, maybe book two or three days in the French capital and spend the rest of your time exploring elsewhere for a one-of-a-kind, all-encompassing vacation. Either that or make sure you're doing Paris on your own terms.
A less expensive homemade option

If you're trying to experience French culture, the language and the food but don't want to break the bank, consider heading to Montreal. As Travel Noire pointed out, the two cities share a lot of the same attributes and it's bound to be less expensive. For instance, the source noted that Old Montreal is very similar to Europe in appearance, there is a Notre Dame Basilica replica and the food is largely the same.
A case for Paris

While it might be a good idea for many to skip Paris and have a completely different experience when travelling in France, if you're the type who will kick yourself when you get home, you should explore the City of Light. Paris is full of history, beautiful architecture, fantastic food and plenty of hidden gems that you can check out to ensure you have a unique and fulfilling time abroad. Even if you like to do the tourist thing, that's equally alright.
The bottom line is, only go to Paris if you're dead-set on it. Do your homework and plan out your trip beforehand. If your budget doesn't allow and/or you want to have a unique experience, think about seeing the other cities or villages of France that are just as interesting.