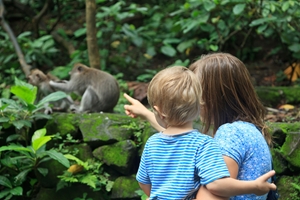 02/23/2016
A zoo is one of the few places individuals can check out that is generally close-by their own homes and gives them a view of other places of the world. After all, because animals are most comfortable in a familiar habitat, zoos can give visitors a sense of other parts of the world essentially in their own backyards while checking out diverse species.
However, sometimes the selection of creatures can be limited. Think of it this way: A local petting zoo probably isn't going to have Bengal tigers or African bush elephants - people might have to go to a big city for that, and even then, there's no guarantee.
When travellers are in different nations, seeing the local zoo might be one of the best ways for animal lovers to learn a bit more about their surroundings. These facilities are almost sure to be full of local wildlife and a wider variety of species that live in the area. Plus, this gives individuals something new and exciting to do in a city they're exploring.
So, what are some must-see zoos across the globe that jet-setters should check out?
Bronx Zoo

Many times, the Central Park Zoo is the facility that gets all the glory in New York City. And it's certainly deserving of praise - according to Travel Channel, even though it's only 2.6 hectares, there are 150 species to see. However, you can't forget about Bronx Zoo, a much larger and more comprehensive zoo. The grounds feature approximately 6,000 animals across 107 hectares, officially making it the biggest zoo in a city.
London Zoo

An animal lover's trip to London would be remiss without seeing the zoo. The same goes for history buffs. After all, as the news source reported, this is the oldest zoo in the world that's still functioning. However, the facility is still updating constantly and adding to the ambiance. For instance, in 2011, the organization opened a new penguin exhibit featuring a massive underwater pool and viewing area.
Henry Doorly Zoo

Many zoos are named for the city in which they're located, though that's not the case for Omaha, Nebraska's Henry Doorly Zoo. It's largely considered one of the best facilities in the world, and CNN reported that it won the TripAdvisor Travelers' Choice Award in 2014. It was given this honour because of the thousands of different types of animals present on the grounds, as well as many hectares of gardens and both indoor and outdoor exhibits.
Melbourne Zoo

Australia is known for the crazy critters that live Down Under, but travellers can check out the Melbourne Zoo if they want to take a look at many of them in a safe environment. According to Travel Channel, 5,120 animals live in the 22-hectare park. The source highlighted the ring-tailed lemur exhibit as a potential favourite.
Loro Parque

That same TripAdvisor awards ceremony saw the crowning of the No. 1 park in Europe - Tenerife's Loro Parque, The Independent reported. The biggest draw to the zoo tends to be the facility's bird exhibits. It showcases approximately 4,000 parrots of more than 350 species. There are many other types of animals and an aquarium on the grounds as well.
Sao Paulo Zoo

Those not just interested in the animals themselves, but in learning more about conservation efforts, might enjoy Sao Paulo Zoo. About Sao Paulo detailed that the zoo works with scientists at various research centres. Moreover, there are guided tours so visitors can see as many of the 3,200 animals on premises as possible, as well as classes for teachers, presentations and the opportunity to take a walk around the grounds at night.