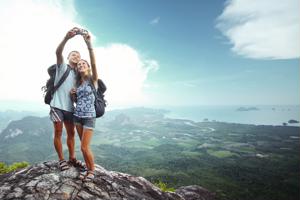 02/10/2020
Travellers across Canada are starting to lay the groundwork for their upcoming vacations. While many of the go-to tourist destinations are sure to see a lot of foot traffic, there is a near endless number of unique locales you may not have considered, both at home and abroad.
To help you plan a truly special getaway, we've put together a brief list of top travel destinations for 2020 that should be on every sightseer's bucket list.
1. Tohoku, Japan
The Tohoku region of Japan is known for its natural beauty, vibrant local festivals and centuries-old historic landmarks. What makes this destination appealing for a 2020 trip abroad is that many tourists will likely be in Tokyo for the Summer Olympic Games, allowing you to experience the region's most popular locales without the crowds. Travellers can hike through Tohoku's snowy forests and crater lakes, take a dip in a rejuvenating hot spring or explore some of the oldest castles in all of Japan.
Top places to visit:
Michinoku Coastal Trail
Appi Kogen Ski Resort
Hirosaki Castle
2. Magdalen Islands, Canada
This small archipelago in the Gulf of St. Lawrence ranked among National Geographic's top travel destinations for 2020 thanks to its pristine and untamed charm. The island chain is renowned as an ecotourism hotspot because of its snowy atmosphere, white-sand beaches and the Atlantic harp seals that migrate to the region during February and March. Historically, the Magdalen Islands have been surrounded by shelves of floating sea ice in the winter months, but rising sea levels and climate change are having a major impact on the region. So if you're interested in observing seal pups in their natural habitat, it's best to book your trip to the archipelago sooner rather than later.
Top places to visit:
Pied-de-Vent Cheese Factory
Dune Du Sud Beach
East Point Wildlife Reserve
The Bay of Islands, located off the coast of northern New Zealand, is home to more than 140 subtropical land masses. 
3. North Island, New Zealand
While most tourists flock to New Zealand's South Island, the northern portion of the country has seen a number of new developments that may appeal to adventurous travellers. The remote and secluded region nestled between Kaimanawa and Kaweka Forests, known as Owhaoko, is set to open in November 2020, according to Travel + Leisure. This rich expanse of mountainous terrain is only accessible by helicopter and is home to the ancestral lands of the indigenous Mori, an area which has remained virtually untouched until recently. Vacationers can also explore a diverse range of scenic destinations, including ancient geothermal geysers, temperate forests and the snow-capped Mt. Ruapehu, located in Tongariro National Park.
Top places to visit:
Tongariro National Park
Waitomo Glowworm Caves
Waiotapu Geothermal Reserve
4. Dubai, UAE
Unlike the other entries on our list, this Middle Eastern metropolis offers a subtropical climate and a massive selection of indoor activities to enjoy. Dubai was listed among Architectural Digest's top places to travel in 2020 because of the upcoming world expo, which is expected to attract more than 25 million visitors during the six-month celebration. Among the most anticipated exhibits, the Museum of the Future will likely be a major attraction for tourists and design aficionados alike. Here, visitors will be able to interact with innovative inventions and prototypes, take part in hands-on workshops and sit in on some truly fascinating talks led by technology experts from around the world.
Top places to visit:
The Burj Khalifa
Dubai Mall
Palm Islands