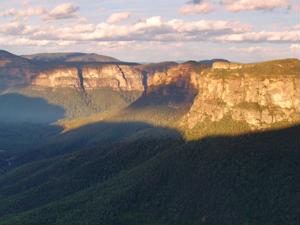 02/13/2020
National parks offer a near endless array of landscapes to explore, from verdant forests untouched by industrialization to sprawling canyons rich with colour, wildlife and history. According to the International Union for Conservation of Nature, there are more than 4,000 national parks throughout the world, spread between 100 countries. This can make planning your next nature trip a bit overwhelming. To help you narrow down your list of must-see locales, we've put together a short list of the top national parks you should visit.
1. Yellowstone National Park
Ranked as the best national park in the world by U.S. News & World Report, this 2.2 million-acre stretch of land is home to soaring peaks, dense forests, sprawling meadows and over 500 geysers. Most vacationers make a stop at the Mammoth Hot Springs, renowned for its natural terraces formed by centuries of groundwater bubbling up and cooling. Yellowstone Lake is a hot spot for anglers and animal watchers, as the fresh water attracts bison, elk and over 70 species of birds. Of course, a trip to Yellowstone isn't complete without visiting the Old Faithful geyser, which erupts a 40-metre-high jet of water every hour and a half.
2. Serengeti National Park
Established in 1952, this wildlife sanctuary is home to the most diverse concentration of plains animals in all of Africa, and perhaps the world. Serengeti National Park is best known for the great migration of wildebeest and zebra, which takes place during the late-spring and early summer, according to the Tanzania Tourist Board. The Ngorongoro Conservation Area is also home to lions, cheetahs, elephants, giraffes and other exotic wildlife, making it a popular safari destination.
3. Torres Del Paine National Park
Located in the southern tip of Chilean Patagonia, this 448,000-acre reserve is well-suited to vacationers who love to hike, mountain bike and explore. Although the temperature rarely rises above 20°C during the warm season, according to National Geographic, many vacationers find that the rugged terrain and chilly climate add to the unique charm of the region. Torres Del Paine National Park is home to a variety of stunning geographical features, from Grey Glacier and the Cordillera del Paine mountains to the jagged peaks of Mirador Torres.
4. Fiordland National Park

Fiordland National Park is at the heart of New Zealand's conservation efforts and features a wide range of natural environments, including forests, lakes, mountains and glacier-carved fjords. These diverse habitats support a variety of regional flora, fauna and wildlife that have developed in relative isolation, meaning you won't see them anywhere else in the world. The most popular destinations within the park are the Milford Track, a long hiking trail through ancient valleys carved by glaciers, and the Doubtful Sound, one of the largest and most isolated fjords in the region.
5. Swiss National Park
Founded in 1914, the Swiss National Park is the oldest conservation area in the Alps and features more than 80 kilometers of hiking paths, nature trails and outdoor excursions, according to Switzerland Tourism. Alongside winding valleys and dense forests, visitors can spot ibexes, chamois, marmots, golden eagles and other wildlife as they explore the base of the Swiss Alps. While hikers and mountain bikers are asked to stay on designated trails, there are plenty of pristine natural wonders to experience.