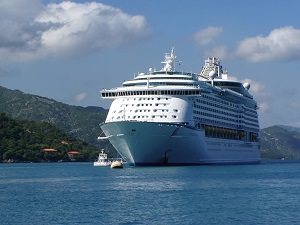 12/02/2019
Taking a cruise is a smart way to experience new travel destinations, but selecting a route can be difficult when there are so many locales to explore. While many vacationers associate cruise ship tours with tropical getaways, there are actually a wide variety of seafaring hot spots to choose from, each with its own unique climate and regional charm.
With an estimated 30 million passengers expected to embark on cruises during 2019, according to the Cruise Lines International Association, it's clear that this form of leisure travel is only growing in popularity. What's more, the high demand for fresh experiences has expanded the itineraries offered by most cruise lines, opening up new opportunities to visit unconventional destinations.
To help you narrow down your options, we've put together a list of four cruise destinations every traveller should consider before booking their trip:
1. Rhone River, France
Rhone River cruises offer travellers a unique opportunity to experience the Burgundy and Provence countryside by taking a relaxing trip along one of France's longest inland waterways. Although cruise lines often visit different ports of call, most itineraries include a stop at the city of Avignon, which was voted the best cruise destination in the world by a 2019 Cruise Critic survey. This picturesque township is particularly well known for its proximity to the Châteauneuf-du-Pape wine region, and is only a short drive from the historic city of Marseille.
The Rhone Valley has dozens of vibrant European cities to explore, each filled with Renaissance architecture, local French cuisine and world-class wineries. Whether you're looking to relax, take in the sights or tour the pastoral countryside, there's no shortage of exciting activities on a Rhone River cruise.
2. Galápagos Islands, Ecuador
The Galápagos Islands are renowned for their exotic flora and unique wildlife, making them an appealing cruise destination for adventurous travellers. Most cruise lines offer all-inclusive itineraries which were created together with officials from the Galápagos National Park, allowing you to experience the archipelago's best ports of call and natural wonders without disturbing local habitats, Travel + Leisure reported. Unlike other cruise destinations on this list, the Galápagos Islands are strictly regulated by local park officials to minimize the environmental impact of tourism and prevent overcrowding. This, in turn, may make it easier to spot some of the region's most exotic animals, including blue-footed boobies, giant tortoises, reef sharks and more.
Cruise tours of this destination are often much smaller compared to other vacation hot spots, with most vessels carrying fewer than 20 passengers. However, despite the low volume of travellers, there is often a surprisingly long list of activities available. Passengers can snorkel in Tortuga Bay, take a hike across San Cristóbal Island or visit the El Chato Tortoise Reserve on Santa Cruz Island.
3. Glacier Bay, Alaska
Although the chilly climate may not be for everyone, taking a cruise through Alaska's Glacier Bay offers travellers an up close and intimate view of America's most pristine ecosystem. Passengers can typically choose from a variety of excursions as they explore Glacier Bay National Park and Preserve, including guided tours through Bartlett Cove, kayaking alongside floating glaciers or fishing for Alaskan salmon in the Alsek River. According to Cruise Critic, the Alaskan cruise season runs from April to September and peaks in June, July and August due to the warmer temperatures.
Keep in mind, every Alaskan cruise line offers different itineraries and ports of call, so it's important to select a travel route that aligns with your personal interests and expectations. Booking a trip for the Inside Passage, for example, will give you a chance to tour small port towns like Juneau, Skagway and Ketchikan, along with natural wonders like Icy Strait Point. Alternatively, taking a cruise through the Gulf of Alaska will allow you to travel farther north to Anchorage, the Kenai Peninsula and even a few stops along the Inside Passage coastal strip.
Glacier Bay is home to the 25-mile long Grand Pacific Glacier, one of the largest in British Columbia.
4. Cairo, Egypt
Taking a cruise of the Nile River is actually one of the most scenic routes for travelling between Egypt's historic landmarks, including the Valley of the Kings, the Temple of Horus and Luxor Temple. Many cruise lines spend at least a few days in Cairo, which may allow you to take a leisurely trip to the Giza Pyramids and the Great Sphinx. Cairo is also home to the renowned Museum of Egyptian Antiquities, which boasts one of the largest collections of Egyptian historical artifacts in the world.
Another must-see landmark is the ancient city of Luxor, formerly Thebes, which is considered a world heritage site by the United Nations Educational, Scientific and Cultural Organization. What makes this city so appealing is that it's close to several of Egypts' lesser-known monuments, such as Karnak and the Temple of Hatshepsut. After a long day of sightseeing, passengers can take a trip to Kharga Oasis, located roughly three to four hours outside of Luxor. Along the way, you'll likely stop at a few notable landmarks, including the Necropolis of El Bagawat, one of the oldest Christian cemeteries in the world, per the Egyptian Tourism Authority.