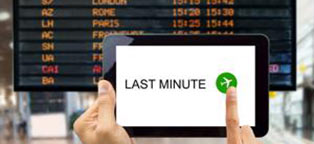 08/16/2018
Spontaneity often creates the spice of life. Sometimes, you have to go against the tide, throw your agenda out the window and let life take the reins. Going on a last-minute vacation is the perfect opportunity to treat yourself and go with the flow.
While the idea of travelling on a whim may be adrenaline-pumping, you might get a little stressed out once the initial excitement wears off. To ensure your sanity, consider the following tips for booking a last-minute trip:
1. Seek short-notice flight deals
Flights tend to be more expensive the closer you get to your desired travel dates. But that doesn't necessarily mean that you can't find last-minute deals. Toronto-based travel expert Brian Simpson suggests doing your research because you could get lucky and find flights for a bargain price: "Some tour operators sell last-minute deals on charter flights, mainly to sun destinations," Simpson shared with Reader's Digest Canada. "We've seen operators offer last-minute charter airfares to Florida for as low as $29 round trip, plus taxes and fees, and to Mexico for as low as $55 round trip plus taxes and fees."
If you can't find a particularly good deal, keep in mind that Sundays and Tuesdays are generally the best days of the week to find reasonable flight tickets, according to Travel + Leisure.
2. Be willing to travel during the week
Those who want to take a spontaneous trip and avoid crazy fees, cramped airports and traffic jams need to consider travelling during the week as opposed to the weekend. Most people have the opportunity to go on a last-minute trip between Friday, Saturday and Sunday and they're more likely to take advantage of it than take time off of work to book a vacation on a whim. You can avoid large groups of people and potential delays and hassles by planning your short-notice trip during the week. A quick Tuesday to Thursday adventure will likely be more pleasant than travelling on the weekend surrounded by larger crowds of people.
3. Be on the lookout for combination deals
 If you prefer to put all of your eggs in one basket, use a third-party website to bundle your flight, hotel and rental car. This can be an extremely convenient option for travellers who want to book last minute, as it takes the stress out of keeping track of itineraries and other vacation details and instead puts everything in one place. Most third-party options will offer value packages when you bundle, too.
4. Consider travelling to family
 An easy way to save yourself money and effort is by travelling to a destination where family resides. Not only will this remove the hassle of booking a hotel and planning excursions on your own, but you can catch up with family members and turn your last-minute trip into somewhat of a reunion. Just make sure that they have the time and space to accommodate you, of course.
5. Don't limit yourself to flying
 If you're set on taking this spontaneous trip but you can't seem to find a good price on airfare, consider your other options for travel. Perhaps you can find a better deal commuting via train or bus, or maybe it even makes more sense to drive yourself. This may alter your general travel destination, but that's what spontaneity is all about! Don't limit yourself to a certain form of transportation. Who knows, maybe a train or bus ride will offer you more opportunities for sight-seeing and meeting other travellers during your commute! No matter what, it's important to remember that flexibility is the key when making your last-minute travel arrangements.
"For last minute travel, flexibility is always the primary factor in saving money," wrote Forbes contributor Johnny Jet. "If you can arrive or depart as you please and pick a place anywhere on the map to go, last minute travel can be fun and save you a mountain of money compared to booking in advance."
Don't shy away from the concept of putting together a last-minute vacation! Remember these tips the next time you're feeling spontaneous.