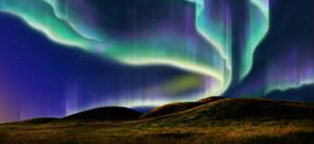 05/11/2018
If seeing the Northern Lights is on your bucket list, it's time to travel north to increase your chances of experiencing the natural phenomenon.
Here are the best places to catch a glimpse of these magical dancing lights:
Canada
 There's no passport required for this viewing party! With its northern latitude, Canada is frequently privy to the beauty of a Northern Lights show. Yellowknife even has an Aurora Village, where you can stay in a wood cabin or heated tepee for the weekend. They even have heated seats to keep you nice and toasty while you stare up at the sky. Other favourite Canadian viewing destinations include Jasper National Park, Wood Buffalo, Muncho Lake Provincial Park, Whitehorse, Torngat Mountains National Park, Inuvik and Dawson City. Check out this guide from Culture Trip to learn more about the Northern Lights in Canada.
Iceland
 Well above the arctic circle, there's a chance of seeing the Northern Lights pretty much any night in Iceland. If they're especially bright, you can see the lights from the capital city, Reykjavik. However, the Thingvellir National Park is easy to get to for some darker skies. You can also head up north to Akureyri, which has a low enough light pollution index for ideal aurora viewing. If you're into camping, that's the best way to get up close and personal with the light show. Alternatively, there are many hotels and resorts where you can catch the lights while relaxing in luxury.
Finland
 The Finnish Lapland is home to an eight-month aurora season. One of the best ways to experience the enchanted lights is by reserving your stay at the Kakslauttanen Arctic Resort, where you can watch from your own glass igloo. Some are even connected to log cabins with saunas and fireplaces for luxurious warmth. Learn more about where you can stay for the ultimate viewing experience from Visit Finland.
Norway
 Head to Tromso, which is located in the middle of the aurora zone. As a peak viewing point, there are plenty of tours offered for visitors. Hammerfest is also home to Polar Night, when there is almost complete darkness from November to late January. Plan your trip during this time for an excellent chance of catching a glimpse - or two - of the dancing lights. Here's more on the Northern Lights in Norway from Travel + Leisure.
Sweden
Visit Sweden recommended visiting Abisko National Park for the best chances of seeing the Northern Lights. Surrounded by mountains and clear skies, Abisko is the perfect background for the enchanting lights. You can take a chairlift to an observation tower, which gets you as close to the action as possible.
Alaska
 While there's a chance of seeing auroras anywhere in this stunning state, Fairbanks is one of the best places to see the Northern Lights. Even if you don't see the dancing lights, you can explore one of Alaska's other natural wonders, Denali National Park. Keep checking this forecaster from the University of Alaska Fairbanks Geophysical Institute to track auroral activity during your stay.