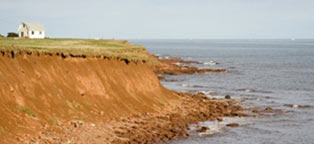 05/19/2017
Canadian travellers who are looking to go on vacation this summer but are trying to be more conscious with their budgets may have a solution right at their fingertips. Instead of the traditional visit to a Caribbean island that's mostly marked by tourist-trafficked landmarks and restaurants, why not consider something much closer to home but genuinely novel? Prince Edward Island could be exactly what you're looking for, especially if you live in one of Canada's mainland provinces.
As the crown jewel of the Gulf of St. Lawrence, off Canada's southeastern coast, Prince Edward Island is as hidden-away and tranquil in its natural setting as famous north Atlantic vacation islands like Martha's Vineyard in the U.S., but considerably less bombarded by summer visitors and much less expensive. If this destination that's been right under your nose sounds like a plan, but you don't know where to start, don't fret. Check out this primer on a few aspects of Prince Edward Island that should definitely be part of your trip.
Culinary highlights: A paradise of seafood
The ocean fare of this province is not to be underestimated. According to the island government's Department of Fisheries, lobster is the most important variety of fish harvested here, having become world-renowned, but it's also just the tip of the iceberg. Shellfish in general is the primary driver of the PEI seafood economy - for example, 55 percent of North America's oysters come from here - but the bluefin tuna, trout, salmon and halibut are also excellent.
You can enjoy these delicacies at any of the many restaurants on the island - or try something a little more adventurous! As reported by The New York Times, it's quite common to "forage" for oysters right out of the bay, and tours where you catch your own clams, mussels, mackerel and more are also available. If you're going to PEI in September, you can head to Charlottetown for the International Shellfish Festival and sample the wares from dozens of local fisheries while enjoying live music and other entertainment.
Outdoor activities for kids and adults
You can keep active on your Prince Edward Island vacation while still having fun, whether you're alone, with your partner or if you've brought the whole family along. As previously mentioned, fishing tours are a popular activity , and as long as no one in your family is prone to seasickness, they're something that nearly everyone can enjoy. Many will love the harness races at Charlottetown and Summerside, in which well-cared-for horses race against each other pulling small carts - without the unpleasant spectre of gambling. And that's just scratching the surface!
For slightly calmer options that leisure-seeking adults are bound to love, it's widely known that PEI is an excellent golfing spot in North America. Most of the courses are 18 holes and range between par-67 and par-72, and many have been cited by Golf Digest as some of its "Best Places To Play" in the world. Kayaking and trail hiking are also well-loved activities here.
Festivals of all kinds
Prince Edward Island becomes truly animated in the summertime, when the majority of its annual festivals are scheduled. More than a few of these are music-focused, such as the Small Halls folk revue, the Cavendish Beach Music Festival (which is mostly country music) and the PEI Jazz & Blues Festival, which is really an event of many genres.
Outside of the musical realm, there are plenty more festivals to choose from. Two that are generally considered must-sees are the Charlottetown Festival - a blend of stage drama, musical theater and dance - and the Fall Flavours Festival, a food extravaganza that draws visitors from around the globe.