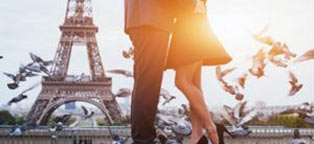 08/17/2018
Just married? Celebrating an anniversary? Kids went to college? Need a break? Regardless of the reason, there's nothing better than travelling with your special someone.
Here are some destination inspirations for a couple's getaway:
Wine country
 Nothing says romance like a bottle of wine. Book an escape to a specific winery or a region known for its vineyards. The two places that often top the lists: Napa Valley and Tuscany. With Californian charm, Napa Valley is sprawling with wineries, restaurants and luxury hotels. U.S. News & World Report named this wine lover's paradise the No. 1 honeymoon getaway in the entire country. If you're ready to head to Europe, explore the glorious Tuscan region of Italy, known for its decadent Chianti and quintessential beautiful countryside.
Quaint charm
 For the perfect balance of an urban and rural destination, head to a small city centre. Savannah, Georgia is one of the most famous romantic destinations known for its quaint Southern charm. It also offers a hip modern twist with eclectic dining and several public gardens, making it perfect for date night dinners and romantic walks surrounded by greenery. Niagara-on-the-Lake, Ontario also exudes charm with its Victorian main street, boutique shopping and romantic dining, as well as St. Andrews-by-the-Sea, the country's oldest seaside resort town. If you have time for a longer trip to Europe, consider walkable cities like Amsterdam, Prague, Dublin, Valencia or Nuremberg.
City retreat
 If you're craving the action of the big city lights, head to a larger metropolis for an exciting romantic getaway. You can grab drinks on rooftop bars, obtain tickets for fabulous theatre performances, explore the bustling streets and indulge in the traditional cuisine. Of course, New York City is a great option dubbed "The City That Never Sleeps." If you want a city that's a little quieter, Paris is the iconic romantic destination in Europe. With waterfront walkways, classic cafes and passionate artistic expression galore, it's easy to fall in love in Paris.
Tranquil escape
 When you're in need of a rejuvenating vacation, relax under the sun with the one you love on a gloriously warm tropical island. It's easy to fall into island time and pass away the days lounging by the pool or on the beach in Santorini, Hawaii, Bora Bora, Fiji or the Maldives. Caribbean cruises are also perfect for last-minute retreats, or you can splurge on a few luxurious nights in an island resort. Check out this list of the best all-inclusive tropical resorts from Islands magazine to help narrow down your options. If you're willing to give up the tropical sun for toasty water and world class spa services, book a retreat to Blue Lagoon in Iceland. By day you'll relax in the spa and by night you'll dine on Icelandic cuisine and rest your heads in a luxurious suite.
Once you choose the perfect destination for you and yours, book it before life gets in the way. Happy travelling, love birds!