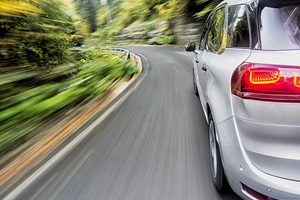 04/28/2016
For many people, driving is nothing more than a means to get from point A to point B. It can be anything from an inconvenience to a nice pastime, especially on those nice Sunday drives around town. It can also be costly - just think of how much money it can take to fill your car with fuel, pay for car insurance, actually buy the vehicle in the first place and keep it functioning normally.
There is a select group of people who envision road trips as the ultimate vacation. They go from one place to another at their own speed, playing tunes in the car with their fellow travellers and taking in all the sites that they would have just flown over had they travelled in a different manner. Some say that the journey is as important as the destination, and that's certainly true for those who take to the open road.
There's no place like Canada to head out on a road trip. Not only are the cities and towns impressive and inviting to travellers - meaning plenty of nice places to lay your head after a day full of driving and interesting things to see when you divert from the highways - but the nature and vistas surrounding the road make the trip itself exciting and gorgeous. Here are some of the best road trips you should consider taking across the country.
Cabot Trail

If you're trying to get back to nature and view both sea and mountains while on your road trip, Cabot Trail should certainly be on your list of places to check out. This road circles around Nova Scotia's Cape Breton Island and, as The Huffington Post commented, leads through a number of the area's communities, meaning you'll get a real taste of Nova Scotian daily life. The source also suggested checking out two particular points of interest: Cape Breton Highlands National Park and Glenora Inn and Distillery, where Canada's single malt whiskey is produced.
Reader's Digest Canada also noted that Cape Breton was given the top honour in Travel + Leisure Magazine's ranking of the best U.S. and Canadian island destinations.
Cowboy Trail

Alberta's Cowboy Trail offers something many of the top classic Canadian road trip suggestions don't - a chance to get onto backroads and off the highways. As The Huffington Post explained, this iconic stretch goes from Lethbridge to Edmonton via backroads, country trails and other smaller streets - no highways and major thoroughfares in sight. This way, you can see some of the ranches that dot the vista of the province and appreciate the finer things Albertan life has to offer. Recommended excursions include taking a walk around some of the quaint towns and villages the trail runs through - bringing you back to yesteryear - as well as seeing Waterton Glacier National Park, where visitors can ride horses.
The Trans-Canada Highway

Probably the most well-known domestic road trip suggestion is cruising down at least a stretch of the Trans-Canada Highway, which connects the nation's two coasts. Everything Zoomer detailed that if you want to take on this driving challenge in full, you're in for quite a ride - namely, 7,800 kilometres of road twisting through a number of different routes, starting in Victoria, British Columbia, and ending in St. John's, Newfoundland. This is the quintessential road trip to take if you're trying to hit some of the best spots our country has to offer, from the capital city of Ottawa to the Bay of Fundy, this highway runs through it all.
The Rockies

No list of Canadian road trips would be complete without at least one that winds through the Canadian stretch of the Rocky Mountains, providing some of the most challenging terrain to cover in the country, as well as some of the most breathtaking views. If you're not trying to cross the entire nation, the 1100 kilometre drive from Vancouver to Calgary might be the journey for you. As Fodors noted, you'll have the opportunity to really stretch it into a great vacation - the trail takes you by a winery, a hotel created by the Swarovski Crystal family, Lake Louise and Banff. With the exception of the shimmering lodgings, these are all must-see places for nature lovers.
The Huffington Post recommended the Calgary to Jasper run, pointing out that this route will take you straight through Banff and into Jasper, where you can hop out of the car and stretch your legs on Jasper's Glacier Skywalk, on which travellers can walk out to a glass lookout point 30 metres over a cliff and 280 metres above the Sunwapta River.
Dempster Highway

As Everything Zoomer put it, if you want a unique road trip, one that really holds a sense of adventure, think about heading out from Dawson City, Yukon, through Dempster Highway, and to Inuvik, Northwest Territories, passing through the Arctic Circle. At 671 kilometres, this drive is reasonable. However, word to the wise, make sure the heat is working in your car well before you set out!