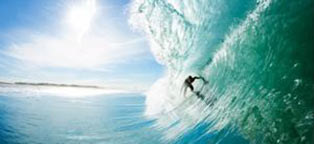 08/24/2018
Surfing is one of the world's most unique sports. Dependent on the perfect wave, it's the ultimate activity for any ocean lover or enthusiast. One of the greatest things about surfing is its versatility. Requiring no more than an ocean with some waves and a board, surfing is a universal sport practiced around the world. Whether you're an advanced surfer or just learning how to ride the swell, these surfing spots offer some of the best waves the world has to offer:
Bondi Beach, Sydney
 On the southeastern coast of Australia, Bondi Beach is one of the world's most famous surf destinations. Characterized by its busy beach and carefree surf town, Bondi is a stunning spot for surfers new and old. According to Destination NSW, you can even spot some humpbacks from Bondi's northern headland if you visit during whale migration season, which lasts from May to September.
Huntington Beach, California
They don't call it Surf City, U.S.A. for nothing. Huntington Beach is California's quintessential surf spot. Visit Huntington Beach noted that the beach's sandy shoreline stretches 16 km long, so it's no wonder Huntington Beach has won awards, including America's Best Beach by Time Magazine and Best West Coast Beach by Coastal Living Magazine. Not to mention the unmatched surfing, attracting professionals from around the globe and World Surf League contests.
Jaws (Peahi), Maui
This Hawaiian surfing spot is not one for beginners. USA Today described Peahi's nickname, Jaws, as a testament to it's killer waves. The jaw-like waves of Peahi are some of the steepest and toughest to surf in Maui, creating a real challenge for even the seasoned surfer. For beginners, nearby spots on the south or west coasts of Maui are more suitable.
Hossegor, France
Bringing a European twist to surf culture, Hossegor is a famous beach destination on the southwest coast of France. According to Active Azur, the spot is known for its fast and hollow waves, which keep surfers coming in from around the world. Hossegor was the location for 2017's Quik Pro surf competition.
Anchor Point, Morocco

Located along the coast of Taghazout, Anchor Point is Morocco's most famous spot to ride the waves. Australians first surfed this beach in the 1960s, according to Surf Berbere. Anchor Point offers a good deal of challenging waves to ride, but the area is also home to surf lessons and programs to help beginners focus on their skills.
The list of amazing surf spots could go on endlessly. Spread amongst an array of continents, countries and oceans, the world is full of beaches with steep waves and tight curls. Plan your next vacation to one of these destinations for a taste of the surfing lifestyle, and practice your advanced skills or build them up from scratch. Either way, you're bound to fall in love with the beauty of these coastal locations and their unique surfing cultures.