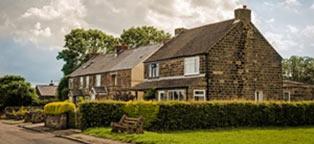 12/06/2017
There is something undeniably idyllic about the English countryside, particularly in the warmer months. Many people who plan European travel will try to spend some time in the United Kingdom. The scenery is gorgeous, the different regional accents are intriguing and there's nothing like a good pub meal or some of the top Indian fare available around the British Isles.
To experience England, Ireland, Scotland or Wales like a local, travellers may want to pick local dwellings in which to stay. The experience will be more authentic, and visitors will become more self-reliant, as they navigate a city or town, shop for food and settle into their temporary home.
If you want to get away from it all in the UK, consider renting a quaint residence in the country for at least part of your next trip. Here are a couple of places you might want to choose, or at least use for inspiration when booking your temporary dwelling.
Seek out something modern
If you like architecture, chances are you'll enjoy a stay in a newly-designed or renovated bucolic residence. Dwell featured some of the UK's more contemporary homes that can be rented for your vacation. Heading to the Cotswolds? You can find your rustic stone home with a dose of modernity at The Find, a house near the city of Cheltenham. While the main building has all the charm of an English farmhouse, a long extension brings in copious light with its floor-to-ceiling glass panels.
Prefer to escape to a small island? Think about the Tinhouse on Scotland's Isle of Skye. True to its name, this isolated and charming dwelling is made from corrugated iron giving it a futuristic feel. Skylights allow in the stars and plenty of sunshine. The tiny spot may be great for couples who want to venture off on a romantic weekend, as it is only designed for two people.
Sleep surrounded by history
The Guardian notes that those looking for unique lodgings may want to check out the possibility of renting a place through the Landmark Trust. Responsible for 183 historic and unique buildings, travellers can choose from a former chapel, an Elizabethan gatehouse or a restored gothic temple, to name but a few of the properties available to would-be renters. Prefer to sleep in a lighthouse? The National Trust rents out 400 properties, according to the source, and travellers can choose from a Medieval hall, a lighthouse keeper's cottage and a hillside cottage in the middle of nowhere, amongst other places.
Of course, there are other benefits to staying in a hotel or hostel, but for travellers aiming for a new experience, renting a small or stately home will provide a good story to tell and a different way of seeing the UK.