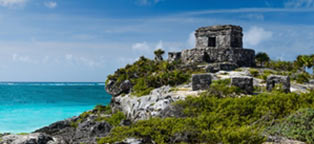 05/19/2017
Mexico occupies a notable space in many travellers' mental catalogue of major vacation destinations. On the one hand, everyone's heard of Cozumel, Cabo San Lucas and their ilk - and for the most part, those places have earned their good reputations. On the other, how often do you hear someone raving about their visit to Xalapa?
The point being: Mexico has a lot to offer travellers beyond its travel-guide-approved "resort" cities and towns. With this in mind, as you search for flight and hotel deals and arrange a travel insurance policy for your trip, learn about some of the more intriguing experiences you can have in the biggest nation of Central America:
Riding the Ferrocaril Chihuahua Pacifico
 The pleasures of train rides are almost pastoral at this point, having been largely replaced by modern car and airline travel. Those who relish their chances to take Amtrak journeys when possible and decide to vacation in northern Mexico may find much to love about the Ferrocaril Chihuahua Pacifico, called "Chepe" by the locals (and on its official website) due to the Spanish pronunciation of its abbreviation.
This fascinating train ride takes you through the mountains of Chihuahua and the great views there, all the way to the edge of the Pacific Ocean. At some points during its rugged route, the tracks are 2,400 metres above sea level, and the whole track stretches for 656 kilometres. Other great sights include the Copper Canyon at Divisadero and pine forests around Temoris. This will take a full day out of your vacation, but it's an altogether fascinating ride.
The mysterious ruins of Palenque
As some of the only extant remains of the original Mayan inhabitants of Chiapas, Mexico's southernmost state, the various ruined sites of ancient Palenque will be fascinating to any history buff - or simply anyone who appreciates aesthetic beauty in architecture. The former city-state, named for the dynasty that controlled it as early as 431, exists today as a series of stone structures that despite being worn down, remain standing a dozen centuries after their construction. They are considered strikingly advanced for their estimated time of construction (sometime between the sixth and seventh centuries).
You likely won't see the area of Palenque in its entirety, especially since UNESCO estimated only 10 percent of its 1,400 buildings have been explored. But you will be indisputably amazed. Many of its structures are decorated with carved friezes and hieroglyphics, telling the oft-bloody history of the Palenque dynasty. While it was abandoned in the ninth century, not rediscovered until the Colonial era and only restored starting in 1940, the surrounding jungle helped protect its original design, further bolstering its mystique.
Exploring Cancun nightlife - like a local, not a tourist
 The city of Cancun, on the Yucatan Peninsula's easternmost tip in the state of Quintana Roo, is well-travelled by tourists from all over the world - so much so that its name is one of several typically considered synonymous with "spring break" and college-aged tourists. That is some people's ideal experience; it may not be yours. However, it's not as if Cancun's locals go elsewhere to blow off steam. They just don't necessarily go to the tourist-trap bars.
According to Lonely Planet, you'll want to visit either Nomads or Amarula Con Acento Tropical to enjoy inventive cocktails in two less raucous, more casually trafficked Cancun settings. The latter is so removed from the tourist vibes that it's hard to find - only a single small neon sign indicates its entryway. La Playita isn't quite as chilled out but generally isn't a madhouse either, offering distinctly Mexican takes on seafood, such as lime ceviche, alongside Mexican lagers and ales.
On the off-chance you do want to get more rowdy but still avoid the gauche trappings of the Hotel Zone, there are beloved local establishments for that too. Those who prefer their nights out to be soundtracked by Mexican rock should try Los Arcos or the Black Pub. Wherever you go, be sure to try a michelada, a beer-based cocktail that combines lager, lime juice, a mix of sauces that varies depending on where you order it and a chili powder rim.