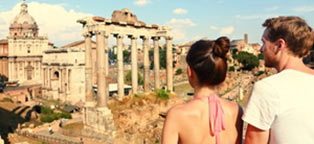 11/29/2017
Planning out European travel often means that would-be tourists incorporate stops in the continent's most famous cities. Yes, there will be that Instagram-worthy moment, but seeing landmarks in person for the first time can be extremely powerful and satisfying. There's something to be said for appreciating the Eiffel Tower at night, or walking Berlin's East Side Gallery where the former Berlin Wall stood. The one trade-off with visiting a more popular European destination is that you will likely have to cope with crowds, especially in peak seasons.
However, those who can't handle throngs or are not excited by famous architecture may want to consider alternatives to the more popular destinations. Here are a few less-travelled cities to visit on your next European travel adventure:
Italy is still delicious, outside of Rome

The city of Rome draws a healthy tourist crowd, but Afar suggested that those seeking a more intimate, equally delicious experience should add Parma to their European travel list. According to the source, Parma was recently named the world's first Creative City of Gastronomy by UNESCO due to the fact that both Parmesan cheese and Parma ham hail from the city. Those who like to sample local cuisine will enjoy all the city has to offer, especially the market near Strada Matteo Renato Imbriani where there are plenty of cured meats to be tried and tasted. When you've eaten your fill, The Crazy Tourist noted that you can walk off your excess calories by visiting the Parma Cathedral while enjoying the architecture and sculpture around the Piazza Giuseppe Garibaldi.
Consider Grenada
Many people flock to Barcelona when they visit Spain; after all, it is a beautiful city. However, the Huffington Post noted that Grenada is an equally compelling destination. Travellers can enjoy the Alhambra, a Moorish palace, and marvel at the history and construction. They can also visit the Cathedral and Royal Chapel, according to Love Granada. The edifice was built on the site of the Great Mosque and has impressively-decorated ceilings and walls. Finally, the ancient Arab baths at the Banuelo are worth a visit: The space dates back to the 11th century, according to the source.
Explore an entirely new place

According to Fodor's, Kotor, Montenegro is an "undiscovered" travel destination making it ideal for those who want to explore Europe without other visitors around. The city features historic cobblestone streets that date back to medieval times, and visitors should be prepared to walk. Cars are not permitted in Kotor's Old Town, making it a great way to get in a workout. For those who are energetic and hope for beautiful mountain and ocean views, it is possible to climb the town's fortifications, which have 1,350 steps.
Wherever you plan to travel in Europe, you will have a wonderful experience. However, with a little creativity, you may bring back something entirely different having visited a unique location and perhaps an unfamiliar culture.