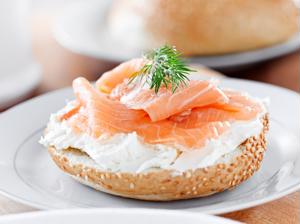 09/27/2018
New York City is one of the world's great food cities. From hot dog vendors to Michelin-level fine dining, it's hard to make a bad choice when deciding where and what to eat. First-time visitors to New York can taste the city's unique foods on a modest budget and an occasional splurge. If you're looking for a quintessential New York experience, here are a few favourites to start your foodie tour:
A slice and a soda: A classic New York slice, a thin serving of cheesy pizza, is one of New York's favourite on-the-go meals. You could make your way to a celebrated pizza joint such as Joe's Pizza on Carmine Street in Little Italy. Or better still, you could just find a place near your hotel or rental apartment. Fold your slice in half to enjoy it New York style with an ice-cold soda.
Bagels and lox: Most New Yorkers start their day with a bagel sandwich. The food bloggers at First We Feast said Russ and Daughters, a Lower East Side institution, is the ideal place to sample the crispy on the outside, fluffy on the inside New York bagels with cream cheese and smoked salmon. An excellent alternative is to do as the locals do and have your bagel to go with egg and cheese and a cup of coffee from any small grocery store nearby.
New York cheesecake: An after-theatre stop for a slice of New York cheesecake is a local tradition. Visitors used to fluffier cheesecakes will be surprised by what appears to be a brick of cheese on top of a graham cracker crust. However, all it takes is one bite to be completely convinced. Check out Junior's cheesecake in Brooklyn or its outpost in Times Square. They've been serving up slices for almost 70 years.
Noodle bowls: New York is home to some of the best noodle joints in America, and Xi'an Famous Foods, a New York favourite, has locations all over the city. You're bound to be close enough to eat in or take out the most amazing hand-ripped noodle dishes or soups. Ivan Ramen is run by a Long Island native who journeyed to Tokyo to perfect his ramen skills and brought them back to New York. Eat in or have it delivered for a late-night snack at your hotel.
Classic New York burgers: If the weather is good, there's nothing better than spending an afternoon in Bryant Park, an urban oasis adjacent to the New York Public Library, It's also home to one of many original Shake Shack burger outposts in the city. More serious carnivores will also want to sample the burgers at Minetta Tavern, a dark wood-panelled West Village hot spot that conjures up turn-of-the-century old-school New York.
Katz Delicatessen: Film lovers will recognize Katz' from the '80s film When Harry Met Sally. Katz's has been on the corner of Ludlow and Houston Streets on the Lower East Side since the turn of the century. Nothing says New York like a heaping sandwich on rye bread, and a bowl of matzo ball soup will definitely fit the bill.
One-of-a-kind ice cream shakes: Local food blog Eater NYC said when it's time for dessert, your choices are limitless. For a truly Instagrammable treat, there are the delicious and camera-ready shakes from Black Tap Burgers and Beer. The line can be long, but it's worth it for the mile-high shakes topped with everything from cotton candy to chocolate chip cookies and even a slice of cake.