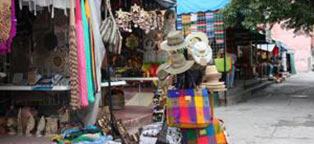 08/17/2018
Known as a party destination for North American tourists, Tijuana has grown into a hub of Mexican art and culture.
Crossing
 Visitors can either fly directly to Tijuana or travel south from the U.S. If you choose to start in San Diego, you'll be able to take the Metropolitan Transit System train down to San Ysidro. Once you get off the train, simply walk across the border. Border control is light and you'll usually be able to cross without speaking to an agent. However, long lines form on the way back, especially if you're in a car or bus, so you might want to fly home instead.
Food

It turns out Caesar salad was invented in Tijuana at a place called Caesar's Restaurant. An Italian restaurateur left San Diego in 1924 to set up a new restaurant on Avenida Revolución, according to the San Diego Reader. One day he was running low on supplies, so he whipped up a salad with what remained in his pantry: romaine lettuce, oil, garlic, lime juice, egg, salt, pepper and Worcestershire sauce. To this day, "ensaladeros" provide individual service by mixing up the concoction table-side for hungry patrons.
If salad isn't your style, tacos are everywhere. Taqueria El Frances is a local eatery within walking distance of the main tourist area. The tacos are traditional and garnishes like radish, onion and cucumber are available on every table. If you're looking for something more upscale, Tacos Casa Sonora is a taqueria for a new generation with interesting fillings including ribs and stuffed potatoes.
Art
The city is now a bustling centre for Mexican artists with a growing list of galleries and art spaces.
La Caja Galería has been around for 12 years and is one of the older galleries in the area. Its focus is not only on showing and selling work from local creatives, but it also serves to inspire and train a new generation, the Los Angeles Times reported. To visit, stop by any day before 7 p.m.
Another fun stop is La Casa del Túnel, which is located in the Colonia Federal neighbourhood. This thin building was once used by a tenant to conduct illegal activities using a tunnel in the basement that led to an American parking lot which explains the name. It was later repurposed as an international arts centre that also offers artist residencies.