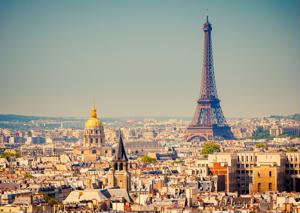 09/21/2018
Everyone who visits Paris has a must-see and must-do list that includes many of the things that make Paris so unique: the Eiffel Tower, the Louvre museum and maybe a boat cruise along the Seine. All those things are marvelous, but it's possible to see the classic Parisian sights and still find a way to make Paris your own. The HIP Paris blog said tourists on their first or their fiftieth visit should try to have at least one or two experiences beyond the typical staples. They say the best way to enjoy this city is to "dig a little deeper, hunt a little harder and linger a little longer to uncover the secrets that make Paris so utterly irresistible."
Have a quiet drink at a speakeasy
Topping the Hip Paris list of personal Parisian experiences is to find a bar to call your own. Paris and all of France are known for their wines, but the city is now home to a booming cocktail culture. Additionally, unique bars have popped up all over the city. While appearing on The Earful Tower podcast, Forrest Collins, who runs the 52 Martinis blog featuring the latest on the Paris beverage scene, suggested checking out a Paris speakeasy like Candelaria, where guests enter through a door in the back of a taco restaurant. For a more Parisian Roaring Twenties "lost generation" vibe, try Fitzgerald, another quiet cozy bar accessed via an unmarked door. Inside you'll find a wood-panelled, cozy hideaway with creative cocktails, including the Zelda martini.
Visit a small and unique museum
The Louvre and the Musée d'Orsay are must-sees for every art lover, but Paris has dozens of other fascinating museums dedicated to a wide variety of interests. Vanessa Grall, author of the book Don't Be a Tourist in Paris and the Parisian blog Messy Nessy Chic, suggested a trip to the Musée des Arts Forains, or the Museum of Fairground Arts. It's a bit of a subway ride from central Paris, and tours in English aren't always available. However, this heavenly museum of vintage carousels and amusement park attractions from years gone by is worth a little advance planning for kids of all ages. Visitors to the iconic Sacré Cœur can make an easy detour to Espace Dalí, the Salvador Dali museum in Montmartre. Over 300 works by the legendary surrealist artist are on view in a small but unique gallery space.
Try barbecue with a Parisian twist
Paris and all of France have a well-earned reputation as an international food capital. Many people flock here just for the cuisine and wine experience. As if that were not enough, many Parisian chefs are travelling to the U.S. to bring back barbecue smokers and brisket recipes. The result is a blossoming of Parisian-style barbecue. The New York Times recommended several places, including The Beast, a popular barbecue joint. This restaurant is run by a French pitmaster with a deep love for smoked meat mixed with a variety of French-inspired sides and impressive selections of bourbons, wines and beers.