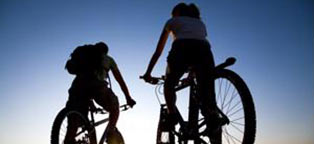 08/23/2018
Vacations are a great opportunity to relax and refuel. Often, when you abandon a consistent fitness routine or an active lifestyle, it can leave you feeling sluggish during time off. You deserve to take a break from a rigorous workout schedule or treacherous commute, but incorporating active components into your vacation will leave you feeling happier and healthier. Try these options for staying fit while having fun, regardless of where you travel:
Water sports

Picture yourself relaxing on the beach. Sunbathing by the blue ocean or a crisp lake in the mountains is sure to warm you up in no time. What better way to cool down than by having some fun in the water.
Swimming is a great low-impact full-body workout - according to Time. Set a distance goal and swim the width of the lake or from one beach jetty to the next for quick toning and muscle strengthening that doubles as a pleasant, cardio exercise. If swimming doesn't sound like the perfect solution for you, check out if your vacation spot has any water sport equipment available for rent. Hop in a kayak to flex those arm muscles, or ride the calm water atop a stand-up paddle board for some fun that will leave your core strong and defined.
Getting around
 Many travellers opt for taxis or ride services as their go-to transportation, especially with a packed sightseeing schedule. If you have a few extra minutes to spare, walking to destinations is a great way to keep your body moving. If some spots are a bit of a hike, plan a route for your trip by public transit and get in a few steps along the way. Plus, you're guaranteed to save a substantial amount of money.
Another active option that's even more sustainable for lengthy ventures is renting a bike. In many locations it's simple to rent a bike. Biking is a fit and affordable option that requires no taxi-hailing or over-packed train cars.
Take a hike
 If you're in a scenic spot with some mountains, no doubt there are great hiking trails to walk, see or visit. As possible as it might be to drive up a hill for a cliffside view, the scene from the top is exponentially more satisfying if you've hiked your way up to it. Hiking is a great cardio and leg workout due to the varied terrain and mountain incline, according to ACTIVE. Spending a little time in nature will also help you refresh and reset. Take a quick hour-long hike for a short burst of activity or head for the summit and commit to a day on the trails.
It's easy to forget all about your usual workout routine when you're travelling to a new and exciting spot. However, these fun activities won't distract you from experiencing all that a destination has to offer, and will help you integrate your normal healthy lifestyle to feel your best, no matter where you are.