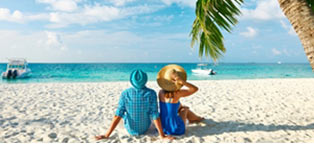 011/08/2017
Whether you chose to elope or throw the party of the century, getting married is a major milestone. Many couples like to do something special to mark the anniversary of the day they tied the knot. This often means booking a trip to commemorate that all-important wedding date. Here are some ideas for where to spend your anniversary:
Bask on the beach
There's something decadent about heading off to the beach for a getaway, particularly when the weather where you live isn't always sunny. The travel bloggers behind One Modern Couple suggest looking into a Mexico or the Dominican Republic. Couples can choose an all-inclusive package where they won't have to worry about anything - from drinks and dining to most activities. The source added that would-be beachgoers should look into anniversary packages to see what some resorts offer.
Have someone else take care of you
You don't have to head abroad to sneak in a romantic jaunt away from home. Pure Wow suggested that those aiming to honor their commitment to one another take some time to sit back, relax and get pampered. A weekend at a spa can provide all the relaxation a couple could ask for, from delightful massages to soothing facial treatments. Look for a place that also has a pool and steam room to sneak in some physical activity and sweat out all life's toxins. You'll come back home relaxed and rejuvenated.
Book that dream travel experience
Need an excuse for a really big trip? Centering your celebration around a decadent vacation is one way to justify the journey of a lifetime. If you're planning to go all out with your destination and lodgings, Travel + Leisure suggested that you look into the possibility of African travel, namely to the nation of Botswana.
Experience wildlife like never before and go on safari, the source advised, as well as book a stay in a Sky Bed - essentially a hotel room on a platform up above the protected grasslands. The temporary residences are romantically illuminated by lanterns. The more adventurous couples may want to take a guided walking tour of the lands in addition to the opportunity to visit wildlife at night. And don't worry - you'll have flushing toilets to use there, and all other absolute essential amenities.
An anniversary can be a deeply personal thing, and the trip you plan with your honey can and arguably should reflect that. Perhaps you can choose a place to mark the occasion where you can challenge your boundaries and see something new. That said, almost everyone can agree there is great value in hitting the pause button on life's hectic pace and sitting on the beach for a day or two with lots of fruity adult beverages. The choice is yours!