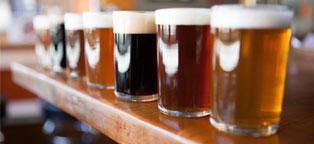 08/24/2018
Whether it's hoppy, malty or roasty, there's a different beer for every taste. Luckily, you won't have to travel too far enjoy a world-class pint. Canada is home to numerous outstanding breweries, where you can watch all stages of the brewing process, listen to live music and sample the local flavour. Grab your growler and visit these breweries that are some of the favourites among Canadian beer enthusiasts.
The Grizzly Paw Brewing Company, Alberta
Nestled in the Canadian Rockies in Canmore, this brewery has been producing craft beer for over two decades. The whole family can tour the Grizzly Paw Brewery Thursday through Sunday and watch as water brought in fresh from the Canmore Reservoir is transformed into delicious beer. After you learn about the brewing process, visit the pub and restaurant and quench your thirst with one of six artfully designed, crowd pleasing craft beers. Grizzly Paw also makes six uniquely refreshing sodas that are a hit with visitors of all ages.
Quidi Vidi Brewing Co., Newfoundland
Perched on the water in Saint John's, Quidi Vidi Brewing represents the spirit of a charming fishing village. Be sure to check out one of the brewery's weekly scheduled events. There is a kitchen party every Friday night that features traditional Irish music and plenty of beer and food. To see more of beautiful Quidi Vidi Village, register for the Signal Hill Hike walking tour. You'll take in the scenery and listen as your guide shares old stories and local folklore. Most importantly, stops for fish and chips and QV beer are included, of course.
Quidi Vidi brewery tours take place on weekdays, starting at 11:00 a.m., and there you can learn about the making of Quidi Vidi beer and the history of one of Newfoundland's most iconic villages. If you can't make the once-daily weekday tour, you'll have more opportunities to check out one of the tours on the weekend, which begin at half-hour intervals between noon and 7:00 p.m.
Yukon Brewing, Yukon
The slogan for Yukon Brewing is, "Beer worth freezing for," and they've been proving it since 1997 with a long list of awards and industry accolades. Formerly known as Chilkoot Brewing Company, Yukon is the brainchild of two Ontario natives with a passion for beer. From golden lagers to dark stouts, there is a beer for every palate. Tours are offered daily and end in the tasting room.
With thousands of craft breweries to choose from across the country, make sure to plan a stop at a tasting room and enjoy one of Canada's favourite pastimes. Pull up a chair and let beer fanatics teach you about their labour of love. Its a perfect way to get to know the locals while savouring a craft beer.

Please remember to always drink responsibly and never drink and drive.