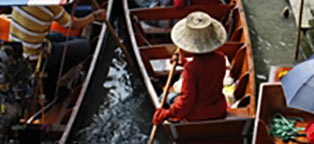 11/15/2017
Paris. Belgium. London. Vladivostok. Whichever city it is, there's probably one that you feel you must absolutely visit in your lifetime. This is your dream destination, the one you have right in the middle of your bucket list, and one day, you know you will get there. Recently travel to Asia has been rising in popularity, with tourists flocking to Bangkok.
It's all in the numbers
MasterCard's Destination Cities index highlighted where people are and will be travelling in the coming years. According to compiled figures, Bangkok experienced 19.41 million international overnight visitors in 2016. This is projected to increase by 4 percent in 2017. In contrast, Paris only encountered 15.45 travellers who stayed the night last year, and the credit card provider anticipated that this would rise by 4.4 percent in 2017. So it looks like people are flocking to Thailand. But why?
What to do in Bangkok

The travel blogger Nomadic Matt listed his recommendations for how one should spend four days in the Thai city. A big part of your time will be spent on foot, admiring the astounding architecture. He suggested visiting the impressive Grand Palace, but don't expect the royal family to be in, as the edifice is only employed for state functions. Then, visitors can walk over to Wat Pho where the city's renowned reclining Buddha statue is located. The area is also home to many other statues and temples, which are well worth the visit, the source noted. Some of Bangkok's other noteworthy temples include Wat Saket and the Golden Mount, Wat Traimit and Wat Arun, or Temple of the Dawn. Guests can climb to the top of the latter structure and enjoy a view that spans across the city.
If your feet are getting weary, the source adds that you can hire a tuk-tuk driver for transportation.This conveyance is a kind of rickshaw/automobile hybrid. Those who would rather take the train can hop on one of the city's sky trains, according to The Crazy Tourist. The cars are air-conditioned, which can be a boon for those who find the warm climate uncomfortable, and the trains travel above traffic, making for some photo-worthy sights and a direct trip right to your destination.
Try the cuisine

Thai food is some of the world's finest. The street food in Bangkok is intriguing, spicy, delicious and utterly unique. The Crazy Tourist advised stopping at stalls along well-trafficked roads to try some of the fare, especially Som Tom, which is a papaya salad, made fresh. Nomadic Matt added that visitors should head to the floating markets, where purveyors sell their wares directly off their boats. The two famed markets are Khlong Lat Mayom and Thaling Chan, and there are so many different dishes to try that you're all but guaranteed to have an excellent Thai food experience.
Those who make a stop in Bangkok as part of their Asia travel plans will find much to see, do and experience - and if it's a place on your bucket list, you might want to visit before it becomes even more popular!