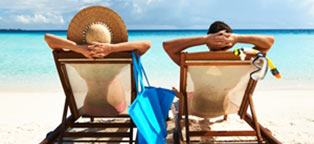 11/22/2017
No matter the time of year, it's always relaxing - and somewhat invigorating - to spend time at the beach. Depending on where you stay, your trip can be more indulgent or athletic. You can choose an all-inclusive resort where everything is planned out, with many soothing activities to try, such as massages, spa treatments and long hours spent on the beach. If you prefer to be more active, select a beach vacation at a spot with ample surfing, paddle boarding or hiking opportunities. Wherever you pick your spot on the sand - and, hopefully, in the sun - there are some items that will make your trip just that little bit more perfect.
It's all about the sound system

There's nothing like playing your own music during a day on the sand, so maybe invest in a good quality portable music system before you head to the beach. Consider purchasing some waterproof Bluetooth speakers. You can sync them to your phone and set up the perfect vacation playlist. The longer the battery life of the speakers, the better. You'll want plenty of power for a day out.
Do you prefer to listen to your music in a more private fashion? Travel + Leisure suggested the Audio Bone 1.0 Headphones. The sleek pair of in-ear phones wrap around the ear, which lets the music in without tangling you up in a bunch of wires. As a bonus, the headphones are waterproof, so don't fear a couple of seawater splashes.
Lock up your valuables

We've all been there and hidden our keys in our shoes, only to worry the entire time about whether they will still be there when we get back from jumping in the ocean. To avoid this anxiety, invest in a Vacation Vault, as recommended by BudgetTravel.com. The mini locker has a three number combination and will hold keys and some cash and can be anchored around a beach chair, umbrella, table or beach bag.
Another option for secure beach storage - the AquaVault Portable Safe. Just as tiny and convenient, it features a programmable lock and is made from slash-resistant plastic. As with the Vacation Vault, you can loop this locker around beach chairs and other furniture to keep it secure.
Just relax and be comfortable

You may want to bring your favorite book and read while soaking up the sun, but what about keeping the wind off? Travel + Leisure suggested that beachgoers pack a pop-up tent. Easy to put together and perfect for diminishing the effects of the wind, the tent can fit two to three people.