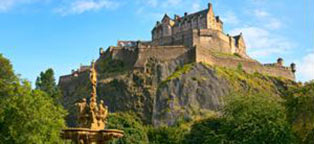 08/22/2018
Scotland is an enchanting destination to enjoy beautiful scenery, historical treasures, and kind-hearted people. Get swept up in your own fairytale by checking out these can't miss castles.
Edinburgh Castle, City of Edinburgh
With over 3,000 years of fascinating history, Edinburgh Castle is arguably the most famous castle in Scotland. For centuries, it has been home to kings and queens and the site of epic battles. Its rich history and well-preserved appearance have earned the castle recognition as a UNESCO World Heritage site and the title of top U.K. Leisure and Heritage Attraction from the British Travel Awards. The castle sees more than a million visitors each year, making it Scotland's most popular tourist destination.
You will be transported back in time as you tour The Great Hall, The Royal Palace and St. Margaret's Chapel. The castle is home to national treasures like the Crown Jewels and The Stone of Destiny upon which kings have received their coronation for hundreds of years. To learn more about the history of the castle, you can venture into the haunting prisons of war beneath the Great Hall or the more recently constructed National War Museum. The castle offers guided tours led by Scottish history experts or you can take a self-guided audio tour in one of eleven available languages.
For a blend of ancient history and contemporary entertainment, check out the Edinburgh Castle outdoor summer concert series, which hosts stars including Rod Stewart, Tom Jones, Arcade Fire and the Proclaimers. It's tough to find a venue that compares to the magnificent castle esplanade.
Eilean Donan Castle, Dornie
Heading to the highlands? Be sure to make a stop at this stunning castle tucked away in the quaint village of Dornie along the main tourist route from Glasgow or Edinburgh to the Isle of Skye. Standing regally on an island reachable only by a sprawling footbridge, Eilean Donan castle has been the site of centuries of Scottish feuds. The structure, the name of which means 'Island of Donan' in Gaelic, is steeped in fascinating Scottish history and folklore. Today you can learn about the castle's history on a guided tour followed by a stop at the charming coffee and gift shops.
Eilean Donan Castle is a dreamy destination for lovebirds to say 'I do'. The castle can transform from a world-class tourist attraction into a spectacular wedding venue in an instant. Ceremonies in the banquet hall can hold up to 70 guests and larger parties can be accommodated in the outdoor courtyard, weather permitting.
Balmoral Castle, Aberdeenshire
Hold your pinkie finger high and practice your curtsey before your trip to Balmoral Castle, the beloved holiday home of the British Royal Family. The castle is open to the public from the end of March through July from 10:00 a.m. to 5:00 p.m. and offers access to the magnificent gardens, stables, and castle ballroom. Her Majesty's private rooms remain closed to the public, but there are a number of activities available to visitors, including luxury Range Rover safari tours and golf on the estate's 18-hole course.
Treat yourself to a royal holiday by staying in one of the distinguished cottages on the property. The cottages house between five and seven guests and offer a truly stately experience.
Whether you are visiting to get in touch with your Celtic roots or drawn by the allure of its magical castles and lavish greens, its natural to be a wee bit excited about your trip to Scotland.