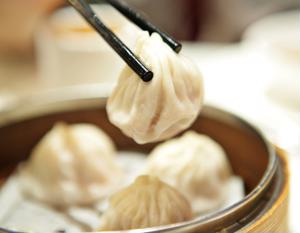 09/18/2018
Eating dim sum in Hong Kong was recently rated one of the top 10 food experiences in the world by Lonely Planet. Some jaded travellers might be tempted to dismiss the traditional afternoon meal of dumplings, small plates and tea as too touristy. Newer travellers might be intimidated by the idea of crowded restaurants and waiters pushing rolling carts with baskets of small, unfamiliar delights from table to table. According to food lovers, the dim sum experience in Hong Kong is a food experience not to be missed.
What is dim sum all about?
Whether you are trying your first dim sum or are an old hand, be prepared for an experience. Some dim sum restaurants will provide you with a menu card in Cantonese, but rarely in English. Sometimes they'll have pictures and a pencil for you to check off the items you want. In other establishments, waiters will come around with carts with several items to choose from. If you don't like what's on the cart, you can pass and wait for another to come by.
You may not be able to try all the dumplings or small plates you want, but plenty of alternatives will also come by your table. A hot pot of tea comes with your meal. Lifting the lid and hanging it on the handle, or placing it on the table, signals the waiter that you need a hot water refill.
Dim sum in Hong Kong
Famous and not-so-famous dim sum places can be found all over the city of Hong Kong and its environs. When asked where the best dim sum is, TripAdvisor's Hong Kong experts typically answer "everywhere" or "the one near your hotel." Even though you really can't make a bad choice, there are some well-known restaurants that are good places to begin your dim sum adventure.
If you dream of dining in restaurants with Michelin stars but are on a budget, you'll want to visit Tim Ho Wan, the world's least expensive dim sum restaurant with a coveted Michelin star. Founded by a former Four Seasons chef, Tim Ho Wan is a chain of fast-casual dim sum across the city. The "hole-in-the-wall' shop has been praised by the critics from Serious Eats as crisp, flavourful and better than any of New York's dim sum eateries. Conde Nast Traveller said travellers should try the barbecued pork buns and pan-fried turnip cakes.
At the other end of the spectrum is Duddell's, a beautiful fine dining restaurant with a rotating art collection on display and a dining room full of corporate clients at lunch and special occasion dinners in the evening. The dim sum features oversized dumplings filled with quail eggs and caviar and steamed rice rolls that win rave reviews.
Travellers looking for an "old Hong Kong" experience will appreciate the Luk Yu Teahouse. The legendary restaurant opened in 1933 and its stained glass windows and antique furniture makes frequent appearances in literature and movies. Hong Kong families have been coming here for years and paying high prices for the ambiance - and basking in the notoriously rude service.
Lin Heung Teahouse dates back to 1926 and is beloved for its chaotic seating and serving rituals. First timers should try to grab seats near the kitchen so they'll be first to see and help themselves to the plates coming into the dining room. Time magazine said you should be prepared to fight for the lotus paste buns and the rice dumplings.
No matter the style of restaurant, eating dim sum in Hong Kong is sure to be a memorable and delicious experience!