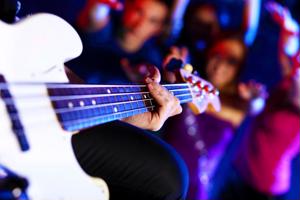 09/25/2018
Born in the middle of the 20th century, rock 'n' roll quickly became a universal phenomenon. The greatest classic bands and artists from around the world spent years playing extensive international tours. With such a rich history, the genre of rock 'n' roll has plenty of sights around the globe for music buffs to see and experience. Whether you're a musician yourself or just a dedicated fan of rock history, check out these spots for an unforgettable blast from the past.
Rock & Roll Hall of Fame, Cleveland

What better place to start than the Rock Hall itself? Full of one-of-a-kind memorabilia and plenty of pieces of rock history, the Hall of Fame is a staple in rock history located in the heart of the Midwestern U.S. Along with its extensive permanent collection, the Rock & Roll Hall of Fame has plenty of special exhibits and exhibitions that rotate seasonally. The Hall also holds a special collection of gift merchandise dedicated to the most recent inductees to the Hall of Fame, so be sure to grab a souvenir before you head out to explore the rest of Cleveland!
Abbey Road, London

London is full of must-see spots connected to the history of the Beatles. But there's no question that Abbey Road is the most picturesque spot of all. The famous crosswalk from the iconic band's "Abbey Road" album cover is located right outside of the recording studios that bear the record's name. Lonely Planet noted that there's even an online live stream of the crosswalk if you want to catch all of the Abbey Road action and see ardent fans of the Beatles emulating the steps taken by John, George, Ringo and Paul. Beyond that, the action on Abbey Road is mostly just some surprisingly heavy car traffic, but it's still worth checking out at least once in person. Just be sure to look both ways before venturing out for your own photo!
Jim Morrison's grave, Paris

Doors frontman Jim Morrison is, without a doubt, rock n' roll royalty. As such, it's fitting that his body is buried in a Parisian graveyard full of other famous people, including novelist Honore de Balzac and quick-witted playwright Oscar Wilde, Lonely Planet noted. Located in the historic neighborhood of le Marais, this gravesite is more appropriate for a silent tribute than any rowdy activity. Nonetheless, it's well worth visiting if you're in the region and want to absorb some spiritual energy from one of the most iconoclastic lead vocalists in rock 'n' roll history. The spot is hilly and relaxing, making it a perfect respite from a long day of shopping or eating around the city.
Tidbits of rock 'n' roll history are all around the world if you take the time to find them. Such spots are all located in cities that still have vibrant music scenes - whether or not rock 'n' roll is their specialty genre anymore - so consider checking out a local show while you're in town!