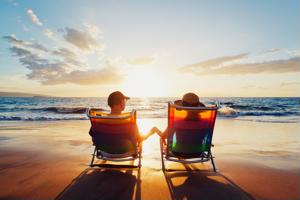 02/10/2020
Planning the perfect honeymoon can seem like a real challenge, especially when you consider how many exciting destinations there are in the world. From pristine beaches and high-end resorts to romantic cities and candle-lit dinners, there's a near-endless selection of intimate experiences newlyweds are sure to enjoy.
Ultimately, the best honeymoon destination is one that matches you and your partner's joint personality, which is why it's important to consider all your options before you book. To help narrow down your shortlist, we've put together a brief snapshot of three popular honeymoon destinations and what you can expect.
St. Lucia, Caribbean
This tropical island was voted the No. 1 honeymoon destination by U.S. News & World Report thanks to its white-sand beaches, transparent waters and picturesque scenery. St. Lucia is home to a variety of affordable resorts that are within walking distance of the island's pristine waterfronts, including the popular Reduit Beach and the Anse Chastanet. But what makes this honeymoon destination truly unique is the activities and excursions offered across the island. Visitors can take a long hike up The Pitons, explore the Pigeon Island National Landmark, ride a zipline through the rainforest and much more.
Best places to visit:
Diamond Falls Botanical Gardens.
Sulphur Springs Park.
Tet Paul Nature Trail.
Tuscany, Italy

While many honeymooners choose to stay in Rome or Milan, this region in northwest Italy is renowned for its pastoral countryside, world-class cuisine and romantic atmosphere. Tuscany is home to stunning Renaissance architecture and a variety of historic landmarks, from the Leaning Tower of Pisa to the vibrant city of Florence. Vacationers can take a bike tour through olive groves and vineyards to soak up the Tuscan sun, weave through Siena's cobbled streets and visit the Galleria dell'Accademia to see Michelangelo's most famous work, the David. This honeymoon destination is well-suited to sightseers, history buffs and couples looking to escape the bustle of city life.
Best places to visit:
The Piazza Michelangelo.
Boboli Gardens.
Piazza del Campo.
Lake Louise,  Alberta
Located in Alberta's Banff National Park, this glacier-fed lake is a veritable winter wonderland chock full of outdoor activities, including skiing, ice skating and even dog sledding. Lake Louise was featured on the Travel Channel's list of the top ten honeymoon destinations thanks to its unconventional charm and idyllic scenery. Honeymooners can stay at the iconic Fairmont Chateau, which is surrounded by tall mountain peaks, the awe-inspiring Victoria Glacier and the emerald waters of Lake Louise. The resort features a luxury spa, high-end dining and a variety of excursions, from guided mountain tours to scenic hiking trails powdered with snow. Newlyweds looking to avoid the cold can book a summer honeymoon to enjoy the warm weather on horseback, dive into white-water rafting and explore the walking trails of Banff National Park, a UNESCO World Heritage Site.
Best places to visit:
Lake Louise Ski Resort.
Moraine Lake.
Johnston Canyon Icewalk.
For more vacation tips and destination spotlights, check out our informative travel blog.