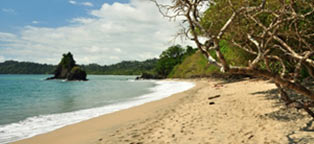 03/28/2017
Aside from its reputation among ecotourists, Costa Rica doesn't get quite as much hype as other vacation destinations in Central America and the Caribbean. But this is a nice problem to have. If that describes you, Costa Rica should be top of mind when making your vacation plans, as you book flights and purchase travel insurance coverage.
There's a lot to do in Costa Rica, so it'd be impossible to list all your options here. Let's take a quick peek at some of the aspects of this tropical paradise you absolutely cannot afford to miss.
Highlights of San Jose
As the nation's capital and largest city, it stands to reason that you'll spend some time in San Jose on your Costa Rican vacation. According to Lonely Planet, the metropolis may at first glance seem ordinary and even cramped due to its traffic-congested streets, but you shouldn't base your opinion on those initial impressions.
The Teatro Nacional is the city's most famous building. It's worth a visit to see the murals inside, which roughly tell the story of the country's 19th century history. For additional historical perspective, check out the Museo Nacional de Costa Rica (housed inside the Bellavista Fortress). Then, make a beeline for the Museo de los Ninos and Galeria Nacional​. It boasts interactive exhibits for kids and striking artwork that adults will find fascinating.
For the evening, you can enjoy fine dining at restaurants such as the Park Cafe, and restless travellers will love the wild nightlife scene at dance clubs like Vertigo and The Den.
Don't forget the flora and fauna
Much of Costa Rica's beauty is found in its nature. According to Travel + Leisure, water aficionados will love either the wild whitewater of the Pacuare River or the stunning blue depths surrounding Cocos Island. If you're not a seasoned diver, you can still enjoy the sights of the latter in a submarine tour.
You'll catch some of Costa Rica's most amazing sights at its national parks. Spread across 127,000 acres of rainforest, Corvocado National Park, for example, is teeming with exotic frogs, jaguars and rare monkeys, along with more than 400 bird species. But even more remarkable is the giant crater at Poas Volcano National Park. The mouth of this dormant volcano is several kilometres across and has to be seen to be believed.
Tranquility along the beaches
You can explore beaches along the Caribbean Sea to the east or head west to the Pacific coastline. If you're a wave-rider, the latter is home to Playa Tamarindo, one of the finest surfing locations. Witch Rock Surf Camp is based here and will be fun for beginning surfers. Santa Teresa, another major surfing spot, is also located along the Pacific, as is Playa Miguel Antonio, which TripAdvisor users ranked as the best overall beach in Costa Rica.
On the country's east coast, travellers more interested in the relaxation aspect of beach life should try Puerto Viejo de Talamanca, which features shoreline bars and eateries such as Koki Beach and Laszlo's. This city, arguably more than any other, epitomizes the jubilant "pura vida" philosophy that native Costa Ricans live by.