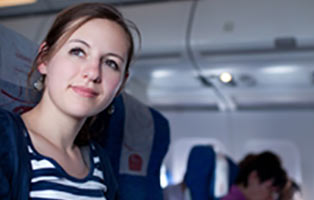 08/05/2016
When choosing plane seats, whether you can do this when you actually book your travel plans or you chose when checking in, people have their preferences. Some really like the leg room and convenience of the aisle seat, while others, perhaps those who are more talkative and want to make friends on their trip, would rather have the middle.
Still more individuals would pick a window seat. This way, not only can they leverage the wall to lean on when they're trying to nap, but they can check out what's going on thousands of metres below. Sure, if it's cloudy, they won't be able to see much, and the same goes if they're flying at night or overseas - there's just not too much to look at.
But, if it's a bright, clear day, travellers may just get a glimpse at plenty of cool, interesting and gorgeous vistas and manmade wonders. Of course, this all depends on what you're flying over, but here are seven highly interesting spots to keep an eye out for if you score a clear day and a window seat.
1. Dubai

One of the largest cities in the United Arab Emirates, Dubai is breathtaking from the air, and for good reason. As Business Insider reported, the government spent about $600 billion in 2000 to construct impressive sights, from the largest tower in the world, the Burj Khalifa, man-made islands and other buildings. As such, this has made the city amazing to fly over.
2. The Grand Canyon

If you're flying across the United States, chances are good that you're going to see the Grand Canyon at some point. Hopefully, you'll be treated to something like the passengers in a late-February plane got to see. According to The Huffington Post, individuals on a Delta flight from New York to Los Angeles got a surprise when their pilot announced he was circling around the fantastic natural site a few times so people on either side of the plane could see the wonders below.
3. The Great Barrier Reef

When you're travelling to a seaside location, chances are very good that you're going to be treated to some beautiful views. This is no less true when you fly over the Great Barrier Reef on your way to an Australian destination, which The Huffington Post featured. The water is shockingly clear, and while, of course, you won't get to enjoy the vibrant colours - that requires and up-close-and-personal visit - you may be able to appreciate some of the beauty that nature has to offer under the waves, which you can see breaking on the shore's rocks.
4. The Swiss Alps

Like some of the other well-known and sizable mountain ranges across the globe, from the Rockies to the Himalayas or the Andes, flying over the Alps is breathtaking. Many times, when travelling over these high peaks, they seem close to the plane, and, in fact, they are. That, mixed with the fact that much of the Alps is untouched, creates a serene backdrop to many flights to European destinations.
5. Washington, D.C.

As reported by Mental Floss, the airspace over Washington, D.C. is heavily restricted in a post-Sept. 11 United States in order to protect federal government buildings and workers below. It's highly regulated and planes can't just fly over interesting places like the White House or the Pentagon. That being said, passengers on those flights that land at Reagan International Airport may be able to score a glimpse of these well-known landmarks. After all, you can see some of them, like the Washington Monument from the terminals.
6. Victoria Falls

Many individuals regard waterfalls as some of the most amazing natural features the earth has to offer. While many can be shockingly gorgeous to fly over, there's none exactly like Zimbabwe's Victoria Falls, as featured by CNN. This waterfall is actually the largest waterfall by width and the second tallest in the world. Seemingly appearing as a crack in the land, as long as there isn't too much mist kicked up by the falls that day, those in a plane over the natural wonder should be able to view a truly unique sight.
7. Rio de Janeiro

As highlighted by The Huffington Post, if you're flying into Rio de Janeiro's Galeao International Airport, you're certainly in for a treat. While you're descending, you can not only see some of the beaches, neighbourhoods and buildings that the area is so well-known for, but you can also check out Sugarloaf Mountain and the Christ the Redeemer statue atop Corcovado Mountain. This can give you a taste of the places you may be visiting in the coming hours and days after you finally land.