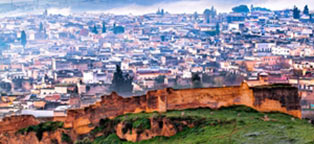 09/16/2016
You've settled on it, you're going to Northern Africa on your next vacation. You've decided to embrace a completely new and interesting culture, explore a land with a history that dates back thousands of years and see natural wonders that can take your breath away. Think you're headed to Egypt? Maybe, but this description can also accurately paint a picture of a nation a little further to the west, Morocco.
While Morocco is undeniably North African, it boasts plenty of influences from its regional neighbours, such as the culture, architecture and hotspots, which weave in European and Mediterranean influences. There is a little something for everyone here, and you'll probably want to do, see, eat and experience as much as possible in a limited amount of time.
Here are six of the most interesting and engaging places you should go when you're visiting Morocco.
1. See Marrakesh
There are a lot of important, vibrant cities and towns located all across Morocco, but if your time is limited, make sure you don't skip Marrakesh. This is lauded as the centre of Moroccan culture, thanks to the various attractions the city has to offer.
For instance, Journey Beyond Travel pointed to Djemma El Fna square as one of the most important areas of the city. This is where you'll find street performers, open-air food stands, shops and the entrance to the city centre, the Medina, where you'll find some of Marrakesh's best restaurants.
2. Spend time at the coast
If you want to see where the North African and Mediterranean influences meet, you're going to want to travel to the coast. This is a must-see space for people who enjoy the beach and want to take advantage of all the best nightlife opportunities on offer.
According to Journey Beyond Travel, you're going to have a good time whether you hit Agadir or Tangier, a couple of Morocco's hottest metropolises. The source said this is where you're going to find fun water activities, sports excursions, nightclubs and fantastic restaurants. Luckily, you can do this and much more all on a small budget.
3. Explore the Sahara

You'd be remiss if you travelled all the way to North Africa and didn't once step foot out of the city and into the Sahara Desert. Instead, get back to nature and head out into the sand with a guide.
The Daily Express suggested taking a 4x4 off-road vehicle out to explore, or going on camelback for a more authentic experience. Regardless of how you get there, the newspaper suggested making it a priority to see the Erg Chebbi sand dunes. They are the highest in the nation and you should either see them at sundown or sunset when the light plays with the colours of the dunes, making them glow bright red. Also, plan to visit the nearby town of Rissani while you're at it.
4. Learn more about the Berbers

While it's definitely a must to explore the Sahara, you should also make it a goal to learn more about the Berbers, one of the native tribes of the region. The Herald Sun reported that there are three cultures that call this area home, the Berbers, the Arabs and the Saharawis.
The Berbers, referred to as the Blue Men, are a nomadic tribe known for a number of things, such as their dress and their hand-made carpets.
5. Take a dip in a waterfall

Knowing that Morocco is situated on the Sahara Desert, it might surprise you to learn that there's a very popular and gorgeous waterfall that makes its way onto many must-see lists. Definitely make time to see the Cascades d'Ouzoud waterfall.
Make sure to visit on a warm day so you can take a dip under the falls, which start about 100 metres above the river pool. If you are there in the afternoon, you can often see rainbows rising from the mist of the falls.
6. Climb the mountains

Everyone travelling to Morocco should venture into the Atlas Mountains at least once. Those who are seeking out active and exciting adventure travel should consider booking excursions in the High Atlas range and the valley.
The Herald Sun explained that not only is this a gorgeous spot with slot canyons and massive cliffs, but there's plenty to do. For instance, there are rafting and kayaking excursions, as well as trails and climbing spots.