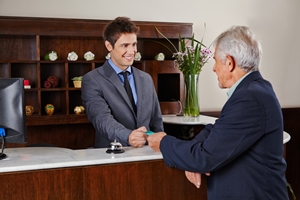 04/11/2016
Plenty of people think that the hotel aspect of a vacation is easy enough to handle - when they're planning a trip, they pick a place after verifying it's up to their standards, book and pay, travel there and check-in upon arrival. Relatively simple - they just make the plans and go there.
Vacation veterans know a bit better. They realize that to get exactly what they're looking for and have the experience of a lifetime, they need to ask a few important questions when they arrive. There are aspects of the lodging that need to be sorted out and potential perks to be had if you make the right inquiry.
So, what are these questions to pose?
1. What floor is the room on?

The floor your room is on may matter for a number of reasons. Think about what you want out of your vacation - you might prefer a sweeping view that only a top floor's balcony can offer, or a ground-floor patio might be your favoured outdoor amenity. But more than that, if there's a power outage or disaster that requires you to go to the lobby or head outdoors without use of the elevator, the floor you're on could matter greatly, especially if you're travelling with someone with a disability. Changing rooms may mean waiting longer before you can enter, but it may be well worth the wait.
2. Can I get a late check-out/early check-in?

In many cases, it's not a big deal to get in a little early or stay a bit later, you just have to ask. If you're trying to get an early check-in, you've got to ask as early as possible - think after you book. However, if you're angling for a late check-out, you can usually ask when you're at the front desk after you arrive. You may want to do this if your travel plans don't exactly sync up with hotel policies and you've got a few hours of downtime. Be sure to ask if there's an extra charge.
3. Is there a place to park?
Many individuals rent a car before they leave the airport because they want a means of getting around and exploring their new location. That said, they don't always check to see whether or not they're actually going to be able to park, especially if they're temporarily residing in a big city. Some places simply don't have the space for this, meaning that you may have to pay a daily fee far away. You need to ask if there is a spot for you at your hotel and if the price is included in your stay. It would be a shock to receive a bill at checkout for parking.
4. What do those resort fees cover?

Many hotels charge resort fees, but if you don't ask what this covers, you may not know to take advantage of all the amenities they cover. For instance, there may be free Wi-Fi, shuttles to the nearest beach or city, a 24-hour gym and so on. Not only will you then be informed of all of the "free" perks that come along with your bill, but you'll also avoid surprises at check-out.
5. How much is the hold on my card?

If you've paid with a debit or credit card - which the vast majority of people do - there's probably a hold on your card - for incidentals, at the very least until the full price of your stay comes out. As Conde Nast Traveler reported, however, a hold on a credit card can affect your credit temporarily. This could affect how much you can charge to said card and limit your finances while travelling. Ask questions and plan ahead.
6. What is the surrounding area like?

If you decide not to rent a car and you're relying on foot travel or local transportation like taxis or buses, you should be sure to find out from concierge services what the neighbourhood is like, especially if you're in a place you've never been before. Take any extra safety precautions that may be necessary.