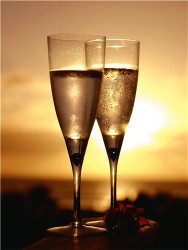 04/22/2016
Taking a family vacation is often a fantastic thing to do that everyone can enjoy. However, sometimes mom and dad just want to head off on a trip for themselves. They can reconnect, sleep in, enjoy adult beverages, pamper themselves, go on adventures that might not be age-appropriate for the kids and so on. It's great to have little ones on trips, for sure, but sometimes parents just need a little break from their daily lives.
Other individuals who might not have kids or have children who are fully-grown could simply want to head off on an adults-only excursion so they don't have to deal with other people's little ones running around and getting underfoot. After all, you've probably paid your dues in many ways and deserve your adult space on vacation.
With these things in mind, here are five exciting adults-only vacations that might interest moms, dads and everyone else.
1. Bucuti & Tara Beach Resort, Aruba

Aruba is a great place to relax and do absolutely nothing except read a book, doze off, sip a drink and just lay on the beach - things that aren't always so easy if there are little kids running around. As an adults-only hotel, Bucuti & Tara Beach Resort offers a more secluded experience for those who simply want to get back to nature in peace and quiet. As Conde Nast Traveler reported, the resort is ultra-relaxing, in part because it's located relatively far from the main hotel strip on the Caribbean island, and is instead situated at Eagle Beach. Moreover, the source highlighted the fact that employees are ready and waiting to serve guests, even if they're just lying on the beach - you only need signal with a flag and they're willing to assist with a whole host of things.
2. Post Ranch Inn, California

California isn't necessarily known as a place where kid-free resorts are the norm. In fact, since the U.S. state plays host to Disneyland, Hollywood and innumerable beaches dotted with surfers catching curling waves, it's pretty common to see children of varying ages around at any given time. That's not the case at Big Sur's Post Ranch Inn, which Oyster.com hailed as an "adults-only retreat seemingly designed for romantic indulgence." While Big Sur is very well-known for its beaches, this resort offers something for everyone - both beach views and mountain vistas, so you can make your vacation into whatever you're interested in. It turns out that you might not even want to leave the pampered luxury of your room - suites can include wood-burning fireplaces, hot tubs and other perks.
3. Royal Hideaway Playacar Resort, Mexico

Usually if you're trying to save some cash and you know you're going to eat and drink like a king or queen, an all-inclusive lodging is probably a great idea. This is why so many adults travelling without the kids head to Royal Hideaway Playacar Resort in Mexico - that and its six pools, 24-hour room service offerings and exclusive white sand beach. And unlike many other all-inclusive locations, it's not really known for its party atmosphere, meaning that it won't be overrun by young adults in full party mode. What's more - it enjoys the impressive status of being a member of the Leading Hotels of the World organization, The Huffington Post reported.
4. The Five Hotel, Paris

If you're set on having a child-free vacation, there are few places better than Paris. The City of Light is a fantastic spot to focus on you, your travel companion, the people and everything the city has to offer. Some of these things are simply aspects that little ones, depending on their ages, might not appreciate as much, so soak it in while you have the chance. A prime place to stay is The Five Hotel, which focuses on love and romantic relationships, so this is a perfect resort to check out with your significant other, Oyster.com suggested. Located in the Latin Quarter, it's also central to some of the best attractions, museums and restaurants the capital of France has to offer.
5. Leadwood Lodge, South Africa

When individuals head to South Africa, a safari is often on the list of things they must check out. It might be nice to do so in an adults-only setting, rather than hearing the child next to you practicing his or her animal sounds - as cute as that may be. Stay at the kid-free Leadwood Lodge, a private game reserve bordering Krueger National Park, Traveller explained. It's also the perfect spot if you're looking for privacy - the lodge only boasts four suites, with fireplaces, outdoor showers and private pools, as well as an open deck to overlook some of the animals in their natural habitats.