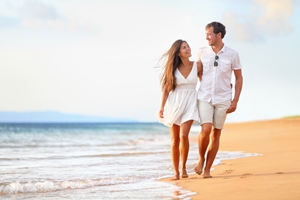 08/02/2016
There are plenty of relatively traditional honeymoon spots that people head to right after they marry the person of their dreams. For instance, it's not exactly rare to hear about friends or family having travelled to spots like Paris, Rome or a tropical island. These places are known for being havens of love and are wonderful settings to kick your married life off.
Still, think of all the other locations that you can put your own spin on in order to have a really unique and exciting honeymoon. You might want to blaze your own trail with the person you love most and come back home with stories, pictures and souvenirs that no one else has.
So, where should you start? Rather than worrying over prime nontraditional honeymoon spots while you're also trying to decide on flower arrangements, groomsmen's ties and seating charts, here's a list of five locales you should seriously consider when booking your honeymoon.
1. Bonaire
Rather than going to one of the more traditional honeymoon spots in the Caribbean, like the Bahamas, Aruba or St. Martin, why not consider Bonaire? The island of Bonaire is located in the Dutch Antilles in the Caribbean and offers a lot of the same thrills. Think great food, gorgeous beaches and plenty of excursions for adventure-seekers - but it remains unique.
For a very different experience, think about making your honeymoon partially about giving back to the environment. Destination Weddings & Honeymoons reported that couples can participate in a program to grow various types of coral in the sea by repopulating the water with the native growth. You can tell the folks at home about your vacation spent on the beach in fantastic weather but with a twist!
2. Mont Tremblant

While plenty of people would rather spend their honeymoon on a beach somewhere with a tropical drink in their hands, that's just not for everyone. If you and your spouse would rather embrace cold weather options - and save some money by travelling domestically - you should seriously consider vacationing in Mont Tremblant, a four-season destination located in the Laurentian Mountains. Away from the big cities, this locale offers ski resorts and a place to get back to nature. Situated between Ottawa and Montreal, it's only a couple of hours away from both urban areas, so you have easy access to take in some nightlife if you choose.
3. Croatia

Let's say you and your honey have your hearts set on heading to Europe for your big, post-wedding vacation. Sure, you can go and spend a lot of money at one of the most popular spots, like London, Paris or Madrid. Or, you can save some of your cash and avoid the crowds by taking a road less travelled - one that leads to Croatia, for instance. This nation, as Wedding Party App pointed out, should be a big competitor for a honeymoon hotspot - it has great views and gorgeous beaches, as well as exciting cities and a lot of interesting history. Be sure to check out the capital city of Zagreb or another of the great urban areas the country has to offer before everyone else catches wind of how cool this country is.
4. Tanzania

While a safari honeymoon isn't exactly an unpopular option, there are some favourite places to go for couples looking to get back to nature - usually South Africa and Kenya. However, Tanzania is definitely one nation that shouldn't be discounted. As Harper's Bazaar reported, honeymooners who make their way into the Serengeti from Tanzania are guaranteed to have a once-in-a-lifetime vacation. The source suggested going between June and October to avoid the rainy season, and a number of resorts in the area offer honeymoon packages catering specifically to newlyweds.
5. Las Vegas
If you're talking about weddings and Las Vegas in the same sentence, chances are you're talking about eloping at one of the city's famous quickie chapels. However, that doesn't have to be the case, making honeymoons a little more unique for this Nevada oasis. This city is known for world-class hotels and restaurants, meaning you can vacation in style, and there are so many concerts, exhibits, casinos and shows to check out here that you'll certainly have a fun, memorable and interesting time.