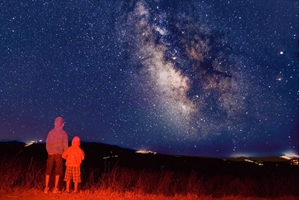 08/19/2016
If you're talking about travel plans and people speak about "great places to see the stars," there's a good chance they're mentioning places like Hollywood, London or Paris. However, as nature lovers know, the word "stars" can mean a few different things - such as the beautiful specks of light millions of kilometres away that dot the night sky.
There are certain spots that those in the know are aware offer the best views to the universe above us. As beautiful as the world's largest cities can be, day or night, it's exceedingly difficult to see the stars from places with "light pollution," meaning the lights that stay on in the evenings. As such, some of the stargazing spots for frequent travellers can be hard to find, as they're often a little off the beaten path.
Here are five suggestions on where you can go across the globe to make sure you're able to catch a unique, awe-inspiring view of the night sky above.
1. Yangtze River Valley, China

There are numerous reasons why it might not be immediately obvious that travellers would catch a great view of the stars when they're vacationing in China - think of the air pollution issues of some of the more heavily populated urban areas, as well as the bright, nearly constant lights of many of the big cities. However, these situations don't often apply when you take in the countryside. As Travel + Leisure pointed out, the Yangtze River Valley is well known for offering up clear skies after the sun goes down, particularly near to the Three Gorges Dam. This can serve to show another side of the Asian nation that only the locals are treated to.
2. Lake Tekapo, New Zealand

No matter where you head on your vacation, one of the most important factors that lends itself to good stargazing will always be the absence of light pollution from urban areas. This could be why so many people who travel to New Zealand's Lake Tekapo are very pleased. After all, as A Luxury Travel Blog reported, this area boasts some of the lowest levels of light pollution in the world, which means that near-perfect conditions are very common. This is especially true if visitors hike to Mount John Observatory, 1000 metres above sea level. Plus, visitors can certainly expect to see a different view - given the island nation's location south of the equator, they can try and spot the Aurora Australis, which is the other hemisphere's version of the Northern Lights.
3. Kruger National Park, South Africa

Many times, the best place to see the night sky is also the most prime spot to see gorgeous natural vistas. This is certainly the truth in South Africa, namely when tourists step into Kruger National Park, where they can catch animals in their natural habitats by day and lay out under the stars just hours later. Travel + Leisure explained that the reasons that make this area so great for stargazing include the fact that it's relatively far from the nearest city and the flat and calm terrain. Luckily, the magazine noted, guides make this adventure exceedingly easy - trained professionals drive open air Jeeps filled with travellers and snacks out on the Singita Game Reserve at sundown, where they're able to show interested parties different constellations.
4. Death Valley National Park, United States

Although it's very exciting to see unique views of the night sky in various countries, travellers who decide to make their way to California's Death Valley National Park may just be treated to meteor showers and lunar eclipses, according to Fodors, which noted that "there's no better vantage point" to view these celestial events. You can certainly make this a multi-night viewing event, given that there are so many different spots you can make camp - the park is almost 1.4 million hectares large. That being said, the news source reported that travellers should consider skipping this trip in the summer months, when the temperature can hit above 38 degrees. Go there between November and April instead for the best and most comfortable results.
5. Salar De Uyuni, Bolivia

It's one thing to be able to look up and see thousands of stars scattered across a navy blue sky. It's entirely another to look down and see the same sight. However, travellers who find themselves exploring Bolivia's Salar De Uyuni know these wonders well. A Luxury Travel Blog explained that, between December and April - the region's rainy season - the largest salt lake in the world offers nearly perfect reflections of the sky above. The source maintained that the horizon seemingly disappears, resulting in a very unique, nearly 360-degree views in all directions.