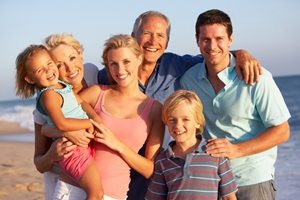 08/25/2016
A family vacation is an excellent opportunity to spend time with your kids. Explore a new city together or take in the sights and sounds of a foreign culture. Likewise, trips to theme parks or other destinations will yield plenty of photos and even more memories.
Instead of the usual trip to the beach, consider branching out and heading to some of these great destinations. You and your family will be happy that you did.
1. The Atlantis, Paradise Island, The Bahamas

One of the most impressive resorts in the world, The Atlantis is perfect for a family vacation because it offers visitors so many different activities and things to enjoy. There are a number of different accommodation packages as well, according to the resort's website, meaning any family can make this trip a reality.
The Atlantis is home to a number of different water slides and pools, as well as beautiful Caribbean beaches to enjoy snorkeling and parasailing. There are also opportunities to swim with dolphins, go golfing or enjoy a seaside meal. At night, children can explore arcades and other locations, while adults may be interested in the casino or taking in a show.
2. Euro Disney, Paris, France

Disney World is one of the most famous destinations for a family vacation, but to really shake things up, consider heading to Euro Disney. Like it's American counterparts, the park is a fantastic place for young people to connect with some of their favourite Disney characters.
A trip to Paris also offers an opportunity to see famous sites like the Eiffel Tour and Notre Dame, as well as drink in the Parisian ambiance at a cafe or acclaimed French restaurant. Though Euro Disney is centred around families, Paris in general has plenty for you and your kids to explore.
3. Kruger National Park, South Africa

Young people love animals, but the city zoo may not be able to do a lion or elephant justice. Kruger National Park in South Africa gives visitors a chance to see some of the biggest, most beloved creatures on the planet in their natural habitat.
The South African National Parks website stated that there is plenty to do in Kruger beyond seeing wild animals. There are opportunities to go hiking and camping, and there are plenty of bungalows and cottages to accommodate visitors.
4. Montreal, Quebec, Canada

For families looking to take in European culture without breaking the bank, staying in Canada and heading to Montreal can still yield a great family adventure. There are plenty of areas in Montreal to go shopping and sight seeing, like the famous boulevard Saint-Laurent. Likewise, take in the colonial culture of the city on the cobblestone streets of Vieux-Montreal or explore one of the many historic cathedrals. There are also many museums and marketplaces for families to enjoy.
Montreal also has a bustling culinary culture, but for families with picky eaters, poutine - the city's famous French fry and gravy dish - is sure to delight any child.
5. The French Quarter, New Orleans, United States

Another city that has a unique identity is New Orleans in the U.S. Like Montreal, there is plenty of French influence on display, and during your trip to New Orleans, you can see the effect France's former rule has had on the city's music, architecture and food.
Although New Orleans does have a reputation for catering to adult interests and college students, there are plenty of activities for families to enjoy too. Head out on a tour of the bayou and see alligators and other creatures in the marshy Mississippi Delta or stay in the French Quarter and enjoy some live Jazz or an impromptu parade. The city is full of music and excitement, which will keep you and your family enthralled.