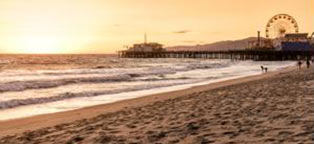 08/16/2018
The warm breezes and sunny skies of spring are right around the corner. This can mean only one thing: the beaches are calling.
If you're ready for a tropical escape, add these gorgeous American beaches to your list of vacation destinations:
Martha's Vineyard, Massachusetts

An island off the coast of Massachusetts, Martha's Vineyard is home to many of the best beaches in the state. Each town has its own charm, such as Oak Bluffs with its pastel-colored homes and Vineyard Haven with its quiet elegance. The exquisite island is also a favourite summer vacation destination for famous couples and families, including the Obamas. Fly in to Boston, spend a few days exploring the city, then catch a bus to Woods Hole where you can take the ferry to the island. If you want to make it straight to Martha's Vineyard, you can take a short flight from Boston to the island.
Clearwater Beach, Florida

The white sand, abundant palms trees and glistening ocean make Clearwater the quintessential Florida beach. While you can't really go wrong with any beach in the Sunshine State, this one usually ranks pretty high on the top lists. Plus, Clearwater is near downtown Tampa and St. Petersburg, which have fabulous restaurants, museums and entertainment for when you need a break from the sun. If you're travelling with young kids, Clearwater Beach has the lively, family-friendly excitement that they'll love, including street performers on the boardwalk and plenty of options for an afternoon ice cream. If the crowds get tiring, you can head to nearby St. Petersburg for quieter beaches. Check out Visit St. Pete Clearwater for more information on these incredible Florida destinations.
Santa Monica Beach, California

Surrounded by a boardwalk, amusement park, trails and casual dining, this beach is perfect for travellers of all ages. U.S. News & World Report named it the No. 1 beach in the entire state for its family-friendly atmosphere, gorgeous views of the Santa Monica Mountains and breathtaking sunsets. It's a super-walkable and bike-friendly city, so you won't need to worry about renting a car during your stay. When the sun does go down, Santa Monica is close to other Los Angeles attractions, dining and nightlife. Here's an itinerary for a long weekend trip from Santa Monica Travel & Tourism to get your wanderlust going.
Maui, Hawaii

You'll fall in love with the crisp white sands and crystal clear waters of Maui, home to some of Hawaii's best beaches. Most visitors feel it's the perfect balance of all Hawaii has to offer, as it's not as large and bustling as the Big Island or Oahu, but not nearly as quiet as Lanai or Kauai. Kaanapali Beach is probably the most popular in Maui, especially as it's bordered by luxurious resorts. If you want to explore further around the island, you'll need to rent a car when you land at the airport. Check out this Maui travel guide from U.S. News & World Report for more advice when visiting this stunning Hawaii destination.