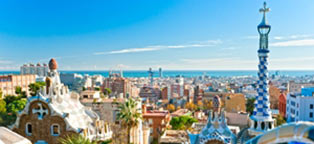 03/28/2017
Travelling to new destinations is an exhilarating experience. While planning trips can get pricey fast, seeing new places doesn't need to carry a huge price tag. Many of the world's most exciting cities offer free attractions that will give you a sense of the area's culture without breaking the bank.
To stretch your travel budget, check out one of these cities that offer great cultural experiences free of charge.
1. Dublin, Ireland
 When you travel to Dublin, you won't have any problems finding inexpensive ways to pass your time on your trip. According to Conde Nast Traveler, you can visit the national museums, stroll through beautiful city parks or tour the iconic Trinity College. You should also consider making the small investment of renting a car. Once you have a reliable form of transportation, you can spend time exploring the beautiful green bounty of Ireland, without paying a single entrance fee. The perfect selfie has never been more affordable.
2. Barcelona, Spain 
While Spain has numerous beautiful cities that should be on your bucket list, Barcelona, the capital of Catalonia, is a great option to get a taste of the region on a budget. Lonely Planet reported that a number of the city's many museums are free on Sundays, including the Museu Picasso and Museu d'Història de Barcelona. And you should definitely take advantage of the beautiful beaches in the area, which will provide a memorable afternoon in the sun free of charge. 
3. Rome, Italy

While Italy can be a pricey travel destination, you can tour many of Rome's most beautiful attractions for free. From the Arco di Constantino, Il Vittoriano and La Bocca della Verità, to the Spanish Steps and​ St. Peter's Basilica, many of the city's most iconic symbols can be viewed without paying a thing. As a result, you can go home with incredible pictures without spending your whole travel budget, leaving plenty of money for delicious gelato to enjoy while you stroll the streets of the city.
4. Tokyo, Japan

You may have to pay for the incredible sushi, but Tokyo offers a number of options for the frugal traveller. Lonely Planet recommended visiting the Buddhist temple Sensō-ji, taking advantage of free admission at the Advertising Museum Tokyo or walking around the Imperial Palace. If you're interested in the latter but don't feel like walking, there are about 150 bikes available free of charge on Sundays.